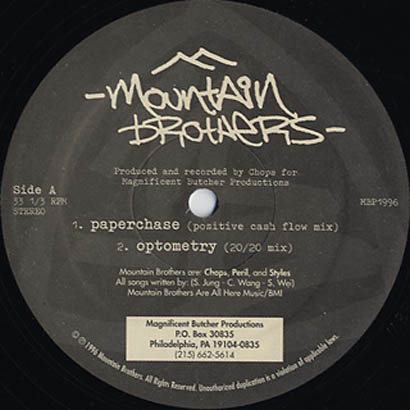 Forgotten Treasure: Mountain Brothers "Paperchase" (1998)
Another great example behind why we started the forgotten treasures selections. Before being introduced to this one track I had absolutely no idea about the existence of this group, yet I am a fairly knowledgable hip-hop head. But now, thanks to the homie Dj Cosmo, we have three albums from Mountain Brothers to dig into!
The were a group (until 2003) that formed in Philadelphia, Pennsylvania. Named after the legend of 108 mountain bandits depicted in the Chinese novel Water Margin. So beyond the whole asian crew thing, they were a group that was mostly known for not relying on samples, instead creating their own instrumentation like the one you hear on "Paperchase". Your first instinct is to say, wow what's this sample?? Roy Ayers? Mizell Brothers? Nah it's actually original music. Sadly, still to this day, this doesn't happen often enough in hip-hop.
I did know about one important member from the group though, CHOPS, who I did have a bunch of records from and is still active in the rap game.
"It's all about the M.O.N.E.Y why must everything revolve around the penny."
Mountain Brothers - Paperchase (1998)