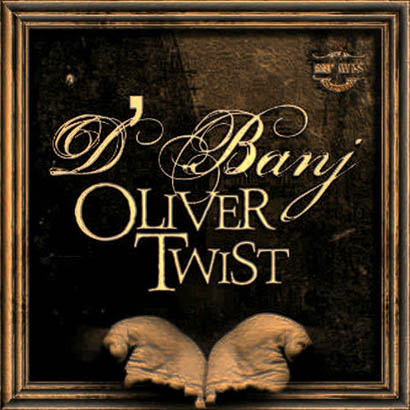 Future Classic: D'Banj "Oliver Twist"
I root for D'Banj, I really do. The Nigerian pop star is pretty much the gold standard across the entire African continent, and a recent signing to Kanye West's G.O.O.D. imprint is giving him the chance to live the dream of any big fish in a small pond, namely break into the US market and hopefully join the ranks of American pop nobility.
Oliver Twist, his latest single, has just reached our shores, but it's already old news in the old Old Continent. It starts with two strikes against it: auto-tuned vocals and completely inane lyrics. Auto-tune is the bane of pop music, but it has somehow become short-hand for slick production values. It is so ubiquitous that one can overlook it fairly easily at this point. As for the silly lyrics—D'Banj basically rattling off a list of pop divas he hopes to get with but can't because he's "just an Oliver-Oliver-Oliver Tweeeest"—they can be seen as his crush-note to the US pop world, an awkwardly written but earnest missive from an outsider wanting to sit at the cool cafeteria table.
If these two things can be ignored, Oliver Twist is one of the most incredible pieces of music ever produced in the entire history of mankind making sounds. In my humble opinion. The club-friendly production is real Afro-futurism, positing Africa as both Mother and Mother ship. Tribal percussions and instruments mingle with plastic synth lines and ominous chords. A bouncing legato-ed melody sits precariously between goofiness and anxiety. Everything comes together in a hair-raising post-chorus where an off-screen group of men chants in an (presumably) African dialect, kicking up dust as the world braces for The End. Considering D'Banj's mainstream ambitions, the amount of dread in this song is astonishing, and immensely satisfying.
Oliver Twist has proven so infectious that it's already been re-voxed by Skepta, Estelle, Tre Mission and a beefy sensitive guy with one of those acoustic guitars with the small volume and tone sliders on the side. While God loves a good versioning—Estelle's is probably the most interesting, flipping it on the woman-dem's POV—D'Banj's original will be my favourite for a while, auto-tune, bad lyrics and all.