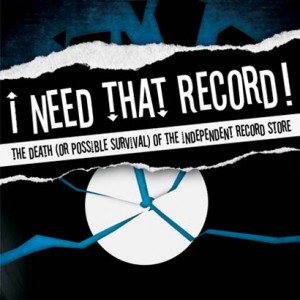 I rented this pretty amazing movie last night (well for a music nerd) without too many expectations. I was running out of options on Netflix and it seemed like a good one, actually I was convinced to watch it!
I won't go into doing a whole review but basically you really should watch this because it's a great depiction of the sad trend of the last 20 years of globalization of commerce and culture and the result being the disappearance of local independant book stores, coffee shops, radio stations and in this case, record stores.
As someone who was fortunate enough to work in a record store for 4-5 years I can tell you that you employees and their client develop a very strong relationship through this connection of what we love so much and the joy of sharing it.
Trailer for feature doc. "I Need That Record: The Death (or Possible Survival) of The Independent Record Store."
Starring: Thurston Moore, Mike Watt, Ian Mackaye, Noam Chomsky, Legs McNeil, Glenn Branca, Lenny Kaye (Patti Smith Group), Chris Frantz (Talking Heads, Tom Tom Club), Pat Carney (Black Keys), BP Helium (Of Montreal), and Patterson Hood (Drive-By Truckers)!
RELATED POSTS: