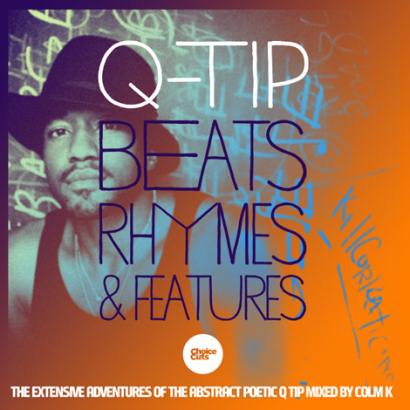 Q-Tip "Beats Rhymes and Features" by Colm K
Hip-Hop tribute mixtapes aren't anything new and there have certainly been a fair share of ATCQ-themed mixes but hey… that's not a bad thing necessarily. We don't complain when there is too much of a good thing.
But also, we're posting this because we were going to do a forgotten treasure feature on Q-Tip's verse in Nuyorican Soul's "I Am The Black Gold Of The Sun" a track that not too many people know about. So we stumbled on this site when looking around of BamaLoveSoul.com a website you should add to your weekly dose of dope music.
The mix is by Colm K, Corkonian, DJ and producer extraordinaire. Very well done. Nothing over the top. Just honoring the Abstract's great work.
Tracklisting
01. Intro
02. Q Tip & Stanley Clarke – 1,2 To The Bass
03. Janet Jackson – Got Til Its Gone feat. Q Tip
04. Nas – The World Is Yours (Q Tip Remix Instrumental)
05. Mos Def – Mr. Nigga feat. Q Tip
06. Nas – One Love feat. Q Tip
07. Mobb Deep – Drink Away The Pain (Situations) feat. Q Tip
08. Q Tip – Gettin Up (Colm K Remix)
09. The Roots – Ital feat. Q Tip
10. M.C. Interlude
11. Nuyorican Soul – I Am The Black Gold Of The Sun (Kenny Dope Remix feat. Q Tip)*
12. Craig Mack – Get Down (Q Tip Remix)
13. The Crooklyn Dodgers – Crooklyn Instrumental
14. The Brand New Heavies – Sometimes (Ummah Remix feat. Q Tip)*
15. Slum Village – Hold Tight feat. Q Tip*
16. Q Tip – Lets Ride
17. The Lone Ranger (Q Tip) – Its Yours
18. Q Tip – Official
19. Q Tip – Higher*
20. Raphael Saadiq & Q Tip – Get Involved
21. Q Tip – ManWomanBoogie
22. The Jungle Brothers – Black Is Black feat. Q Tip*
23. Q Tip – Even If It Is So