After Impacting Vinyl & DJ Culture, Sweater Funk Glides Out
After ten strong years of being San Francisco's weekly Sunday night Boogie haven, Sweater Funk is scaling back knowing they impacted DJ culture in a major way.
If you've been to one of San Francisco's most-attended, highest low-key high credibility DJ music functions, that's Sweater Funk. This dedicated weekly gig has evangelized Boogie since 2008, and it's ending this Sunday, July 29th. Take it in, across ten years. You walk in and immediately notice the countless piles of record bags behind the back of the turntables and mixer set up. Next up, take note of the multi-gendered mix of races on the dance floor and among the DJ crew, literally representing the music they play, observing and responding on obscure record finds.
This fluid group of music ambassadors played vinyl originals only, every week. It was a dedicated DJ space with no laptops or apps. After a spell, the group of followers multiplied every Sunday night. First at the musty, shadowy cave basement that is the Lipo Lounge in Chinatown, and then at the Knockout on Mission Street. For six years at the second site, it's been the most welcoming of all spaces for eager record nerds of every single kind. The type who'll back you into a corner, unwittingly, out of love, just wanting to explain to a close friend, random strangers, or anyone who might listen, about what the hell was that last record, played in its entirety, that just blew up the dance floor. And oh yeah… never a cover charge.
The formal 10th-anniversary party will take place at the Elbo Room on September 29, and the crew will press rewind and roll out Sweater Funk as a monthly on Nov. 10, holding down second Saturdays at The Knockout.
Boogie, Sweater Funk's chosen exploration (though it branches out) comes from Disco, Hip Hop, House and Techno circa 1980 in predominately black neighbourhoods of New York, Chicago, LA and DC. It's a regional phenomenon that happened as singers and producers with no access to live bands and instrumentation or professional studios made music in makeshift set-ups in their own bedrooms using cheap and affordable Roland TR-808 drum machines and synthesizers to do their own things.
"Dam-Funk popularized it in the States, single-handedly. All by himself" said Sweater Funk co-founder Jon Blunck. Right after Dam-Funk and his DJ crew started their own long-running Funkmosphere club night in Los Angeles, Blunck and other Sweater Funk co-founder Jacob Pena, aka DJ Guillermo, began their own night in San Francisco.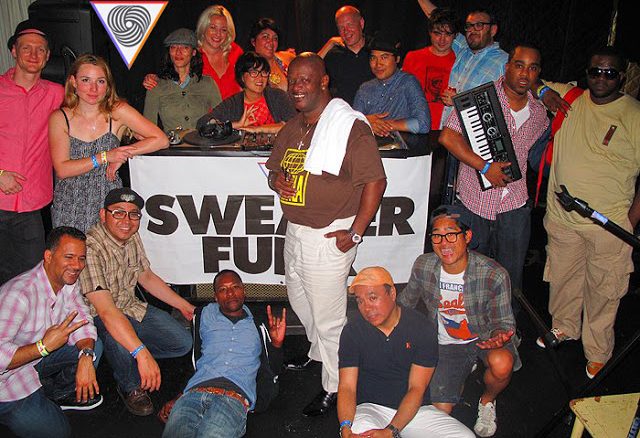 While I was gathering facts on the transition during a summery June 12th evening in Pena's San Francisco apartment, Dam-Funk is literally performing on The Tonight Show with Christine And The Queens. "Ten years later Dam-Funk is on Jimmy Fallon. Pretty fitting" reflected Pena. "Well, it's the second time" responded Blunck. "The first time he was on with Snoop Dogg for Seven Days of Funk. He smashed his Keytar onstage. Like Pete Townshend. It was epic."
"Wow that just kinda connected your two lives" Pena hopped in with a brotherly jib. "Pete Townshend. Mod Jon Blunck. Dam-Funk. Boogie Jon Blunck."
Wait…I never knew you were a Who Fan?
"Blunck is a Mega Mod dude" chimed in Pena.
"Oh yeah. I was a mod kid in the 80's.The Who. Small Faces. The Lambrettas. All that stuff" answered Blunck with a sly grin.
Sweater Funk crew member and business guru The Selecter DJ Kirk Harper and Blunck found Boogie the same way…"Me and Kirk have the same background. We got into Boogie through modern Soul, through northern Soul, and through mod. So for us, it was a direct progression from Motown, while keeping our minds open to more different music until we found boogie in the late '80s and early '90s. A million years before it caught on here. Kirk and I were into it for a very long time. When Jacob and I first started playing Boogie around here nobody liked it. So that led us to just do it on our own. Far away. Where we could just be left alone."
"Far away in so many ways. Like on the fucking desert island of club nights. Sundays." Pena interjects. "The desert island of a club neighbourhood. Chinatown."
Not many people may have gotten that, aside from the mothership that is Funkmosphere in LA, it was radically inclusive when it won SF Weekly's Best new club in 2009. Mayer Hawthorne, who performed under the moniker as Haircut 100 for booking purposes, played the Sweater Funk one year anniversary. Leroy Burgess, who is fondly called The King Of Boogie, played the fifth-anniversary party.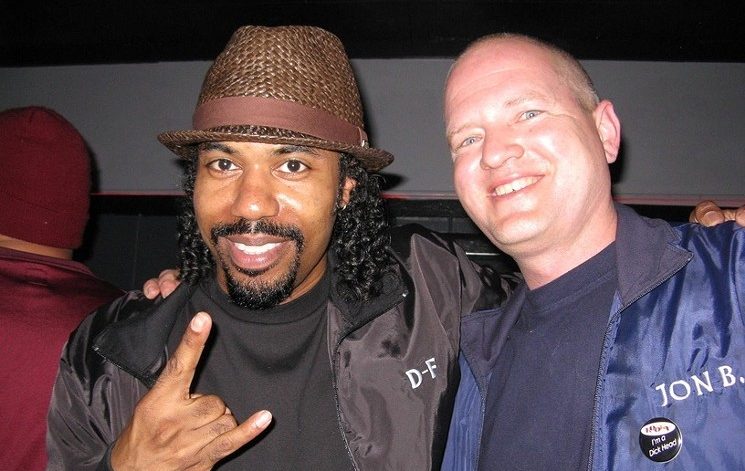 While at the same time supporting and encouraging new artists in the Modern Funk genre, Sweater Funk has hosted performances by Onra, Benedek, XL Middleton, Moniquea, The Pendletons and Psychic Mirrors among others.
This global movement that carries weight in Montreal, London and Japan motivated record junkies and crate diggers to re-examine a genre that in the late '70s and early '80s most people in the fearful, racist, homophobic mainstream called "that Disco shit". Now, this genre has become the direction former J-Dilla disciples are studying and a high-yielding category for vinyl DJ's to excavate.
Funkmosphere and Sweater Funk, over ten years, helped create and pave the lane that Bruno Mars rode straight to The Grammys. Granted Mars' version is a more "vanilla" type, a quicker study to unpack. Not a criticism, just a fact. The LA and SF influential club nights answered to a higher calling of service. Never one about crossover money.
It was always a conscious choice for the Sweater Funk weekly party to be a free one. In the same way that Dam-Funk consciously announces song titles, artists and record labels during his DJ sets. Both are acts of presenting accessibility of this music to everyone. Previous to this, millennials were not checking for the early '80s R&B group Change. It's a direct correlation that proved the quest was successful. So Sunday when Sweater Funk hosts its weekly party for the last time, all DJ crew members will have solace in the fact that they changed the culture.
A priceless commodity for sure.
---
Follow Sweater Funk:
Facebook
Soundcloud
Twitter
Instagram