Inside the Sound of Ed Longo
Since his highly-acclaimed debut release "The Other Fantasy" in 2019, the Milan-bred and Berlin-residing producer, DJ, and sound engineer Ed Longo has been busy forging his own path on the underground music map. One thing's abundantly clear, he's just getting warmed up.
Ed Longo's an integral part of an exciting slew of artists that have in recent years emerged from all corners of Italy. Sitting comfortably at an intersection between 80s boogie and cosmic disco, jazz and fusion, his music confounds strict categorization. And just like the music of his homeland counterparts, I'm sure he wouldn't mind keeping it that way.
We caught up with Ed on the verge of the first release on his record label Cosmic Romance for an in-depth look at his musical journey.
How important was music for you growing up?
Although my father is a saxophone player and ex-studio owner, music was not really a big thing at our house growing up, not more than any other "normal" family. Sometimes I used to pick up my dad at the studio and would hang out with the musicians & producers who were there for the day. Other than that, it was regular pop music or TV.

I was all about sports growing up and didn't really care so much about music, to be honest. It was a bit later, during my late teenage years, that I started getting interested, mainly because I started going out to house/techno parties with my friends. My parents were very supportive in this phase, although I was making a lot of noise every day. My dad got me my first decks and DAW (at the time I believe it was Reason 3).
From then on, I started developing my passion and interest, making a lot of terrible music for many years! As I got into my early 20s, I started to get into jazz, funk, etc, and started having proper musical communication and exchanges with my dad, exploring his record collection and even doing studio collaborations. At some point, my experiences in the club world with house/techno and my interest in jazz/funk blended together into what I'm doing now.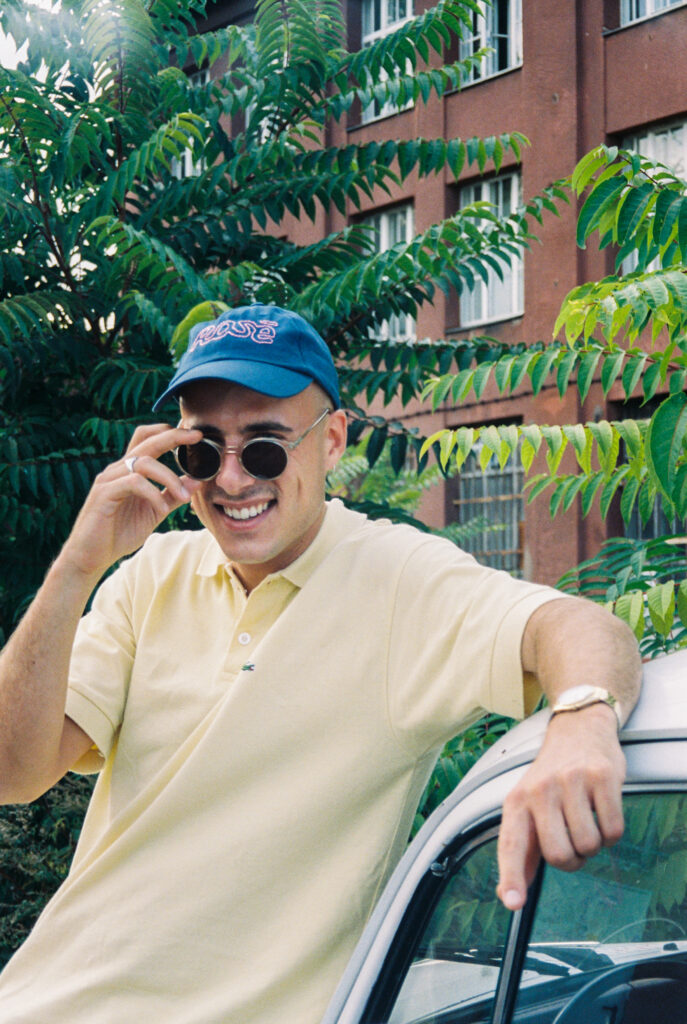 You've moved to Berlin where you've formed your own studio, radio, and now record label. Tell me how it all came about.
I moved to Berlin as a party-hungry 20-year-old wanting to have some experiences with music, nothing more and nothing less. Over the years (more than ten now), I was absorbed into the music scene on various levels and allowed to have time to experiment and try things out. Eventually, I found good people and situations which seemed to fit me well and started giving back to the city on my own initiatives.

The radio (Cashmere Radio) came quite spontaneous as a student project. The studio instead was a more thought-through project with the aim of setting up a space where I could work every day but also accommodate other artists and bands. The label (Cosmic Romance) is a project started with my partner Gilberto to give a home to my productions or productions which somehow go through the studio.
Your album debut (mini-album) The Other Fantasy was a fusion of jazz, boogie, disco, and everything in between. Tell me about the process of making it and the sound you wanted to capture.
The idea for the record started because I had to do a final project for my art course. By then, I had already lost all my interest in the art world, so I decided to just make a record instead and try out some techniques I had never used before.
At this time, I was already working in a studio and doing mainly electronic projects, so I was interested in learning more techniques for acoustic recordings. So I set out to record instruments such as marimba, flutes & horns, and percussions. I started working on basic drafts on my own and used them as a starting point to go into sessions with musicians and elaborate my ideas with them. That's when I realized that to make the sound I wanted, I needed to work with others. I would have to completely forget the idea of making everything by myself (quite typical of producers nowadays).
Once I received interest from Pellegrino (Early Sounds), I used the first version of the songs for my final art project to finish the project for the release. Generally, I wanted to create a sound similar to the records I was listening to, which I could not achieve by working alone.
An entirely new and exciting scene has formed in Italy, with Nu Genea, Pellegrino, Mystic Jungle, and yourself, to name a few. Similar aesthetics and atmosphere, but always original with its own trademark sound. What's the story behind this, in your view?
First of all, I'm honored to be put up with such names because they were and are all, in their own way, big inspirations for me. All the people you mentioned are artists who work with a strong identity and approach projects with a strong concept/idea behind them.

It's not really "only-jamming" as such, as they all have their own concept they want to come through in the final product. I think they're all pretty successful at it, and that's what makes their releases unique. Also, perhaps another thing we all have in common is that we're all not properly trained musicians (except Lucio from Nu Genea) but still trying to make music with a high level of musicality in it. I think our process may be different from that of properly trained musicians.

I'm very happy that there's such good music coming out of Italy and that it is also very successful in Italy itself, a thing which was not very usual in the past. I think it's a great moment for music in Italy in general, with some quite amazing artists coming out in the pop/indie world too, and mainstream and underground melting well with each other.
Your first release on Cosmic Romance is by a singer called Stella. What can we expect from this record?
Stella is an incredible individual with a strong character and enviable energy, besides having a very special voice. She also moved to Berlin very young from her native Paris. We met a few years ago in local jam sessions and bumped into each other frequently at parties as we were listening to similar music.
A couple of years ago, I invited her to the studio with the vague idea of working on something together. The first sessions went really well, and from then we decided to do a record together, which would be her debut record as a singer. The sound of the record is heavily inspired by the sound of mid-late 80s French productions. Stella is, in fact, a big fan of 80s breaks & boogie sound (her dad being one of the original hip-hop promoters in France), while I'm an aficionado of the Tropical – Zouk sounds coming out of Paris in the 80s.
You can expect sunny instrumentals and lovely vocals, flirting with pop while keeping a distinct "realness". We have also put together a band performance which will debut in June in Berlin for our release party and hopefully soon in other places!
What is a recent discovery that you've been listening to?
I discover new music daily, both old and new, so it's a bit hard to say. If I'd have to say a band it would be Berlin-based Zeitgeist Freedom Energy Exchange. I have seen a concert at the XJAZZ festival last month and it was freaking good. Record-wise, I'd say the latest LP by Mystic Jungle, which is getting consistent spins at my DJ sets/parties.
Ed Longo LINKS