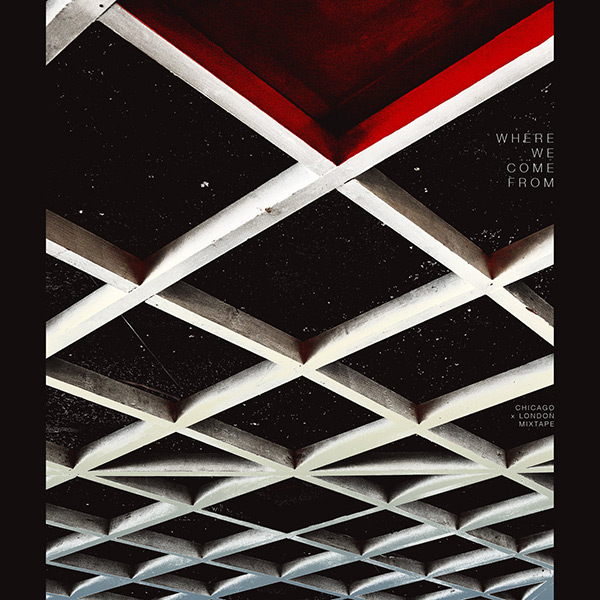 Album of the Week: Makaya McCraven "Where We Come From" (ChicagoxLondon Mixtape)
"I just met these wonderful people" says Chicago's Makaya McCraven in the opening moments of the album/mixtape, referring to the fact he is on a stage playing with some of London's finest young Jazz musicians whilst meeting them for the first time.
Over the course of the two day ChicagoxLondon Showcase, the drummer/producer welcomed Theon Cross (tuba), Joe Armon-Jones (keys), Nubya Garcia (saxophone), Kamaal Williams (keys) and Soweto Kinch (saxophone and voice) to join him on stage. From the first note you are sucked into the session and feel like you're sweating along with all the dancers at London's Total Refreshment Centre as all your "oooohs" and "huhhhs" are heard in the recordings. The tracks start flowing seamlessly into one another with some clever post-production handled by Makaya paired with some remixes by producers who took part in the third phase of the project.
Over 20 musicians and creative minds were involved in this five day mini-residency between two of the most vibrant Jazz scenes at the moment: Chicago and London. The first two days of the showcase (which was held by International Anthem & EZH Mag) was when all of the material was recorded. Days three and four consisted of mixing and mastering the sweaty live concert sessions, and the fifth day was reserved for an event called "Fresh Roasted" (run by King Hippo also from Chicago) where live beat-making and remixing of stems recorded from the live sessions took place. Producers Ben Lamar Gay, Emma-Jean Thackray, Lefto, Quiet Dawn and Don Leisure & Earl Jeffers (of the Darkhouse Family) all pitch in great contributions to giving this live Jazz recording that special mixtape feeling.
Originally, the project was supposed to serve as bonus material for Makaya McCraven's upcoming album (dropping end of 2018 on International Anthem) but what happened over the course of those 5 days was magic that can't be denied. The result is one of the most innovative Jazz records in recent memory: a project at the crossroads of contemporary club culture and the tradition of the Jazz craft carried by these young players. It has since been by nominated by Jazz FM as "Live Experience of the Year", been covered by Rolling Stone, New York Times and will see a vinyl release soon.
Me, I'm just glad someone remembered to hit the record button!
If you would like to know a little more about the making of the album, check out this great video series below.
"Where We Come From" released July 27, 2018 on International Anthem
---
Follow:
Makaya McCraven
International Anthem
Total Refreshment Centre