Back to the Raw. The Lost Tapes From the Legendary SunPalace Project
"Rude Movements / Winning" by SunPalace (released in 1983 on Passion Records) has always been somewhat of an obsession for me. Perhaps the track I've played the most in DJ sets in the last 15 years. I always wondered where it came from and where the project disappeared to.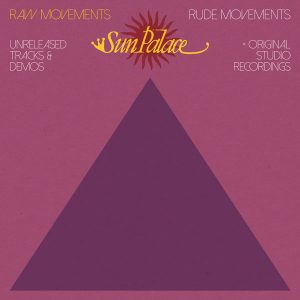 Leftield Cosmic Disco meets Jazz-Funk. Drum machines, synths, guitar and even some harp. All creating the quintessential cerebral dance-floor tune.
Legendary DJ's like Mancuso, Kenny Dope, Larry Levan, Francois K – to name a few – kept the song alive from its release in 1983 up until its revival in the late 90's. Ignored by the masses, the real heads made the EP into a cult-classic!
When hearing that the folks at BBE Music (celebrating their 20th anniversary!) were planning on releasing an album featuring unheard productions and versions from SunPalace I was so excited to hear more from this project that had only ever given us one EP.
Had the pleasure of having a discussion with Mike Collins, half of the original SunPalace project.
Lexis: SunPalace was one of the first projects you ever worked on. You've had a very long productive career in the music industry since then. How does it feel to go back to the very start?
SunPalace (Mike Collins): It feels good! The SunPalace project started off well, but then we struggled to get the first studio recording released (from summer 81 until November 83). By this time, the stresses and strains had begun to take their toll and things became more difficult for our musical partnership to survive in the face of the large debt we owed to the bank to pay for the studio recording and to cope with the overwhelming rejection we faced from everywhere – the record labels, publishers, people in general…
I did my best to keep the spirit alive throughout the 80's, but it became increasingly difficult to persuade Keith to be enthusiastic about this, so by the end of the 80's I made the last couple of recordings on my own. Then I changed direction in the 90's and became a 'gun for hire' working on other people's projects, not my own.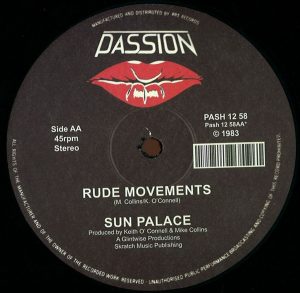 I started working on my own projects again around Y2K, mostly recording acoustic jazz at first, while building up a pretty damn good home studio setup. Since 2006, I have been working more or less full-time at musical projects, as a producer or co-producer, as a recording engineer and studio musician, and writing songs with other people. I planned to revitalise the SunPalace project and have been working towards this for a number of years. My plans were given a big boost in July 2015 when I was contacted by Flavia Lamprecht and her DJ partner Massimo di Lena from Berlin who told me they were big SunPalace fans and asked if I had any unreleased material. I played them a couple of tracks and they spent the next 12 months encouraging me to dig out more stuff, clean up the old recordings, overdub some to complete them, and make new mixes. Then Peter Adarkwah called me…
Lexis: You mention the rejection you felt when it was released. How long after the release did you feel like it was getting a second wind and slowly becoming a cult-classic?
And to what do you attribute it? What has made it such a timeless dance-floor tune.
SunPalace (Mike Collins): This recognition started for me in 1999 when I learned, by accident, that Passion Records had fulfilled an order from Japan via the Mr Bongo vinyl specialist shop in London, to supply 5000 copies of the single in 1998. In the early 2000's I heard about the Loft CD compilation from a couple of fans in New York and was told that the New York correspondent for the UK Straight No Chaser magazine had started a club night called Rude Movements in honour of this track. This guy told me about other DJ compilations, such as those by Chris Brann in the UK and by Julien Jabre in France. So I started to keep an eye out for these. Then I noticed a compilation called stop and listen 5 by Kenny Gonzalez of Master @ Work (on bbe as it happens) that included Rude Movements as one of his faves, so I realised that it was influencing generation after generation of DJs.
Lexis: From the early 80's up until the late 90's you had turned the page on the project without necessarily knowing the impact it was still having?
SunPalace (Mike Collins): Yes, that is correct. Throughout the 90's I had no idea that it was having any impact anywhere – until 1999.
Passion (the record label) were not telling us anything – probably to avoid giving us licensing fees for the compilations. Our deal with passion ended in 1993, so after that date they had no rights to release or sub-licence our tracks, yet they did!
As it happens, I had always hoped, and in many ways expected, that this would be the case! In the 70's I was a DJ myself, and was well aware that many DJs would find obscure instrumental dance tracks that they could make into 'cult' hits, and in many ways I designed this record to be exactly that. And that is exactly what it has become! This, of course, is making me very happy and is a total vindication of my decision to spend the vast amount of money to make this record in the first place!
Lexis: Unbelievable! Another good example of DJ's and record collectors being important cultural preservationists.
SunPalace (Mike Collins): Yes, DJs and record collectors are cultural preservationists! I always was, and still am!
Lexis: Getting back to the making of the project. I think it was one of the most expensive independent electronic/dance-floor record made in those days right?
SunPalace (Mike Collins): Yes, the SunPalace single, which cost almost £4000 to make in 1981, must have been one of the most expensive independent electronic/dance-floor records made at that time. The other people making stuff like this were the early house guys. I met Marshall Jefferson in Chicago in 1986 and he told me that he was working in a day job at the Post Office on an early shift so he could go and do his music in the evenings, and that they were DJs and music enthusiasts who could not afford the expensive studios, expensive musicians and arrangers used by their Motown and Philly 'heroes', so they used cheap drum machines and synths, just like me an Keith!
Except that for our record we hired EXPENSIVE synthesisers (Prophet 5/10 and PPG Wave) that we could not afford to buy, but we did use the relatively affordable CR78 drum machine.
Lexis: I encourage everyone to go on your website and check out the pictures of the studio invoices, gear lists… fascinating read!
Lexis: What i've always loved from the two SunPalace tracks is they work on a dancefloor or in your headphones just vibing out. It gets your feet and body moving but its also quite cerebral!
SunPalace (Mike Collins): Well, we were definitely aiming this at the dance floor (that was my DJ and Stax/Soul covers band influence and Keith's Motown/Soul background), but also getting off on the trance-like repetitive nature of the Rhodes part and the string synth in the background! Some people also say I can be cerebral at times – I love Debussy, for example! And Philip Glass… And Kraftwerk, Jean Michel Jarre, Merry Christmas Mr Lawrence, Donna Summer/Georgio Moroder… Herbie Hancock. Weather Report…
Tomita's classic "New Sounds of Debussy' was a major influence – Snowflakes are Dancing', Clair De Lune', etc.
Lexis: I can definitely hear all those influences in the SP project!
Lexis: Has the project given you an opportunity to reconnect with your former SP partner Keith O'Connell?
SunPalace (Mike Collins): I have never lost touch with Keith O'Connell: he is one of my oldest friends and was my closest musical associate throughout the 70's and 80's. I spent a great day with him last month telling him all about how the SunPalace project is progressing and he re-iterated his 'moral' support for this, while explaining again that he has moved on to other things in his life, so cannot be involved practically. He reminded me again that this is my vision that I must carry forward – with his blessing!
Can you tell me how much of this record was remixed recently?
SunPalace (Mike Collins): For the recent re-issues, I used original studio mixes made in the early 80's which I re-transferred from stereo 1/4″ tapes. The "Rude Movements" mix should be virtually indistinguishable from the Passion release, and the "Movement 1 (Winning)" release is an alternate mix made the same day as the "Winning" mix released on Passion – again, virtually indistinguishable, but maybe the length is a bit different and some inner details. The other studio recordings, Movement II and Movement III have never been released before.
The Movement three part suite is absolutely incredible!
SunPalace (Mike Collins): This shows the progression which, with hindsight, makes it clear that we were aspiring to have an actual band with a proper bass player and drummer, which we got to in Movement III. Nevertheless, the simplicity of the original Rude Movements track will always remain my favourite – and that of many, if not most of the fans!
It also reveals that I was happy to use the original tracks as a structure or template on which to build these further re-workings…
And I still have creative ideas to continue on this path to make a whole Rude Movements album one day! Maybe with new vocals, and certainly with further instrumental explorations…
Well now fans who have obsessed over those two original versions for 30+ years will be rejoiced to hear all the new material!
SunPalace (Mike Collins): I really hope they like the unreleased stuff! It does sound more 'raw' – but my fans in Berlin loved this aspect…
Lexis: Im going to thank you for your time. And thank you so much for dusting off the SunPalace project! One of the musical highlights of the year for me.
Buy Album