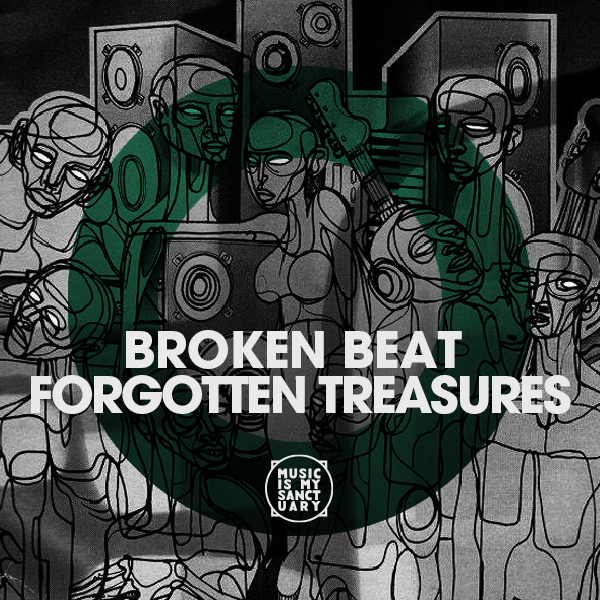 10 BROKEN BEAT Forgotten Treasures – Picked by Moonstarr, Lexis & Scott C
Almost 20 years later there is still something magical about Broken Beat scene and those few years when it was the most interesting dance floor music around.
Not only have most of the classic tracks aged extremely well but the scene has been enjoying a bit of a revival these days with some of the OG's like Dego, Kaidi Tatham, Daz-I-Kue as well as younger talents like K15, Falty DL and labels like Eglo, Ten50 and 2000Black are putting out inspiring new releases.
Moonstarr, Lexis and Scott C present a few gems you might have forgotten about. Please note: this is not a list of Classics. The aim is to highlight a few slept-on gems.
Peace to all the Broken Beat legends, from IG Culture to 4Hero to all the key players in the London and Japan scenes.
Neon Phusion "Timeless Motion" ft. JB Rose
Broken classic from Neon Fusion aka Alex Phountzi, Kaidi Tatham and Orin Walters. JB rose on the vocals. This one came out of the golden era of broken beat when the cross collaborations were producing amazing tracks and Goya Music distribution was on fire shipping broken records worldwide.
– Pick by Moonstarr
Nepa Allstar "The Way"
A slept-on gem courtesy of Tony Nwachukwu who released some tracks under a few different monikers but only one official track as Nepa All-Star. It's incredible how forward thinking "The Way" still sounds almost 15 years later. The intricate drum programming and nice manipulation of the vocal sample really make this a treasure for the dance floor as well as the headphones.
– Pick by Lexis
Critical Point ft. Vikter Duplaix "Messages"
Claimed as an instant classic in both bruk and deep house circles at the time of its release, I always loved that such a serious broken tune had dropped on MAW. Along with Soulquarian James Poyser, producer/vocalist Vikter Duplaix crafted a timeless joint that stiil asks the question, "Can you dance?"
– Pick by Scott C
Cousin Cockroach & Shok "King Tut Fool"
Cousin Cockroach & Shok. "King Tut Fool !" Minimal broken beat by produced by Dego and Kaidi Tatham circa 2004. When this one dropped at the legendary Plastic People "Co-Op" night heads would sing out the baseline.
– Pick by Moonstarr
Blakai "Afrospace" (Blakai Remix)
Some members of Broken Beat royalty on this record: Blakai was a side project from Kaidi Tatham and Mark Force (both also members of the Bugz in the Attic fam) + the great Bémbé Ségué on the vocals. "Afrospace" was always one of my favourites, a nice blend of the classic Broken drums with a more melodic side. Always been addicted to that baseline.
– Pick by Lexis
Just One – Questions
Justin Chapman, another American producer who was clearly influenced my all the music coming out of West London, always had an original and soulful sound. "Questions" took that jilted shuffle to another level with guitar chords, filtered keys and layered vocals. Definitely an underrated Neroli cut.
– Pick by Scott C
Plutonia "Forever" (Opaque Remix)
Plutonia "Forever" (Opaque Remix). Original produced by Dego and Alex Attias remixed by Opaque aka Seiji circa 2001. Released on Alex's Visions records. Seiji was on a tear with his MPC and synths at this time building a broken empire that would eventually give birth to the great broken track "Loose Lips" feat Lyric L.
– Pick by Moonstarr
Cousin Cockroach "This Ain't Tom N' Jerry"
Probably the toughest broken tune one can drop in the course of a night, this Dego produced gem is a track I often used to test the soundsystem at the beginning of the night, only to later drop the needle on the same cut in the mix. Serious Bitasweet vibes.
– Pick by Scott C
Domu "Dangerous Times" (Simbad Remix)
Any Broken Beat list needs at least one Domu mention, but I'm making this a 2 for 1 as I also want to include something from Simbad whose role in the Broken scene is sometimes overlooked. The extremely versatile producer has made great stuff in various scenes which is why he's not always considered a pure Broken guy. I still love playing this song every now and then, always gets a great reaction.
– Pick by Lexis
Mark Force "Gypo"
Not one to shy away from pushing the levels to the maximum Mark Force turned up the pressure with Gypo. Put his name on the map and still sounds fresh 13 years on.
– Pick by Moonstarr
---
For any of you in Montreal, we are doing a BROKEN BEAT only night as part of the Music Is My Sanctuary monthly night. 5 hours of classics & forgotten treasures by Moonstarr, Lexis and Scott C
RSVP