FarOut recordings' mission is to bring to light all the diversity and vibrance of Brazilian music past and present. In doing so they have rereleased a number of seminal albums from renowned artists such Marcos Valle, Arthur Verocai and legendary supergroup Azymuth.
They have recently released the group's Outubro LP which was originally released in 1980 and began Azymuth's run of prolific output for Milestone Records throughout the decade. The album represents an era where Azymuth was locked in creatively and could do no wrong. Light yet funky the transcendental session was a sign of things to come for the group who are currently back in the studio working on a new album
We we're lucky enough to catch up with the band and ask them about the incredible piece of Brazilian music history that is Outubro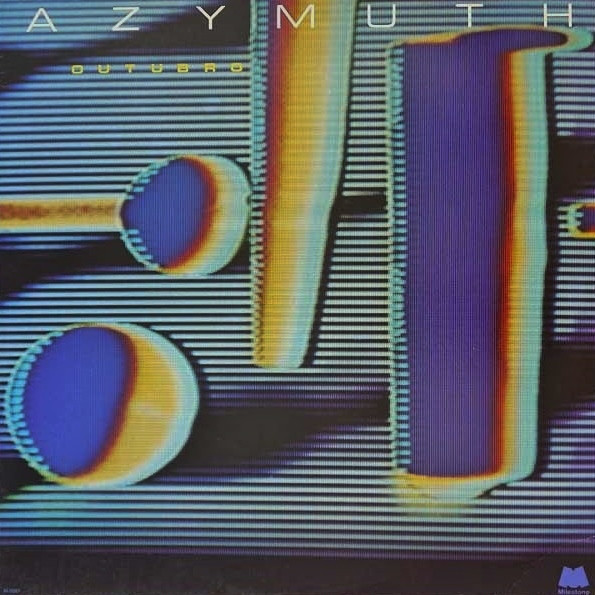 How do you feel about Outubro being reissued and why do you think this particular album was selected?
@Azymuth_Trio: Far Out have previously reissued 'Light As A Feather' and our debut 'Azymuth'. Outubro follows the lineage of these albums so we saw it as appropriate for this to be next.
Outubro was the second album on Milestone, followed by an album a year for more than a decade! How was the band feeling at that moment?
@Azymuth_Trio: We are always working and producing new music so this happened naturally!
We never had a problem releasing an album a year, because we always have something to show, and our fans want to hear our work. This is clear to us at our gigs.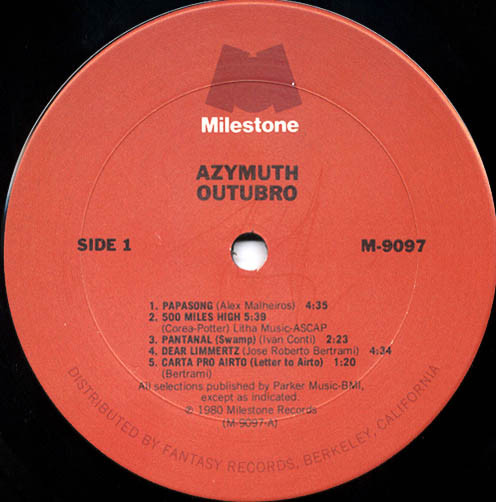 What was the creative process behind building and recording Outubro?
@Azymuth_Trio: The same process as all our previous work! Lots of rehearsing, and composing songs that grasped the spirit of their time.
The song Outubro is written by Milton Nascimento. How did the Mineiro sound influence Azymuth at the time?
@Azymuth_Trio: Going back that far it's difficult for us to get specific, but we were always listening to the new music of Brazil in all its many forms, and of course Milton was a key figure and someone we hugely appreciated.
Flora Purim was already at Milestone when you joined. Did she play a role in getting you on the label & did her and Airto's musical approach have an impact on your sound?
@Azymuth_Trio: Flora invited us to join her touring coast to coast in 1978. We consider her our godmother because when this happened everything from then on started to work for us abroad.
I wouldn't say their music especially impacted our sound, we consider that to be a gift from god! Each of us invoked a great richness through our individual playing and that together is the sound of Azymuth.
I am always amazed at musicians that successfully go through multiple eras and genres. How do you explain your resilience in the music industry?
@Azymuth_Trio: Music is what we do! It is our job! And we do it because it gives us joy. We live to make music and play it!
There is nothing better than to be able to show people your work and have it received with such warm appreciation. It is an incredible reward. While god gives us health, we will be doing music. We went a long time without recording a new album in the 90s and have Far Out to thank for getting us back to making records again in 1996, and now again we thank them as our forthcoming record is our first since 2011.
Many DJs revere the older Brazilian music, but can you recommend current musicians/projects that we should keep our ears open to?
@Azymuth_Trio: We can only recommended you play close attention to our beloved Far Out Recordings who are persistently putting out the best new music out of Brazil.
We'd like to thank all the DJs that play our music and spread it across the world.
Finally, what's next for Azymuth?
@Azymuth_Trio: We've recorded a new album, our first with the incredible talent Kiko Continento on keyboards.
We hope our fans old and new enjoy our work because it comes straight from our hearts.
Listen (and Buy!) the album