Debbie Taylor had fantastic releases on GWP, Polydor and Arista but here is another throwback sound from the early seventies "No Deposit, No Return" which came out on Today Records.
Arranged and co-written in 1972 by Patrick Adams, the man responsible for so much of the quality disco to come later in the 70's. This tracks just drips classic 70's Soul! A classic "Northern Soul" track, definitely one of the most fascinating music scenes. Definition below…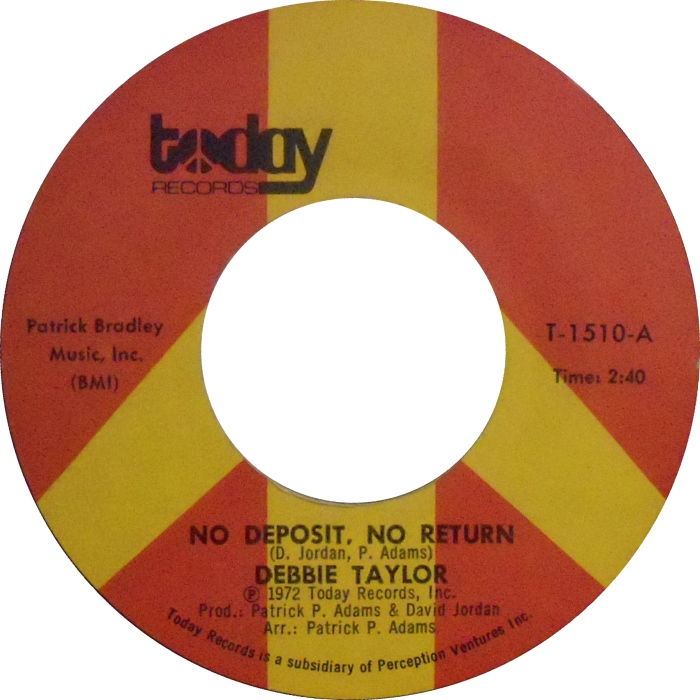 Northern Soul: Northern soul is a music and dance movement that emerged from the British mod scene, initially in northern England in the late 1960s. Northern soul mainly consists of a particular style of black American soul music based on the heavy beat and fast tempo of the mid-1960sTamla Motown sound. The northern soul movement, however, generally eschews Motown or Motown-influenced music that has met with significant mainstream success. The recordings most prized by enthusiasts of the genre are usually by lesser-known artists, and were initially released only in limited numbers, often by small regional United States labels such as Ric-Tic and Golden World (Detroit), Mirwood (Los Angeles) and Shout and Okeh (New York/Chicago).