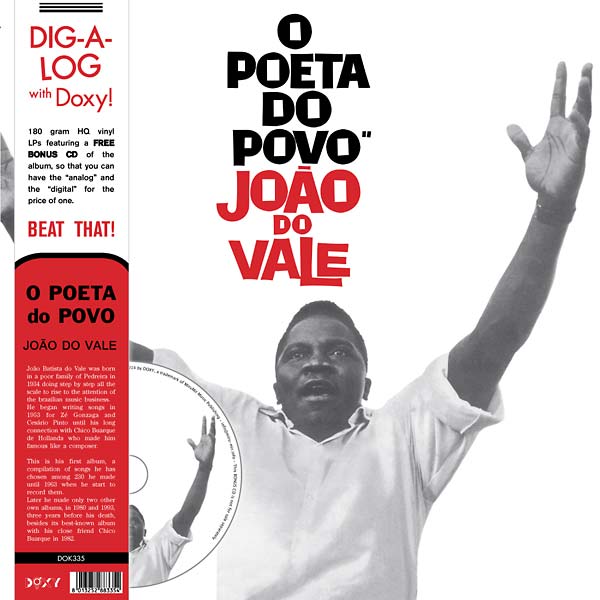 Forgotten Treasure: Joao do Vale – O Poeta do Povo (1965)
The resurgence of vinyl records over the past few years has been, for the most part, fuelled by reissues of classic records. "Nevermind", "The White Album", "Kind of Blue" and other standards of their respective genres. That's where the real sales are coming from.
However, reissuing rare records that are considered holy grails of digging have always caused a bit of controversy. Of course, the collector who has an original copy of a record like Joao do Vale's "O Poeta do Povo" which goes for around 200-400$ won't be happy to hear that this crucial Brazilian record has just been reissued in fantastic quality by Doxy Records.
But when it comes to reissues, i'd rather be on the side of the listeners and music enthusiasts who get the chance to get this record at a really reasonable price. Don't get me wrong, if I ever did find a copy of the original 1965 pressing on Philips at a reasonable price, i'd jump on it.
"Joao do Vale was a very important singer and composer noted for introducing the popular art of North East of Brazil to the mass medium-classed people of major Brazilian cities. João do Vale is a singular poet. His lyrics, which transmit his profound understanding of the sertaneja (inlander) soul, are full of a very personal notion of rhythm. The strength of his work can be appraised if we consider that he is one of the three great figures of Northwestern popular music (the others being Luís Gonzaga and Jackson do Pandeiro) even having recorded only two individual albums. His first LP, 'O Poeta do Povo', released just after show Opinião, where Joao sings his compositions. Joao do Vale has recorded only three LPs on his entire career."
180 gram LP, plus the entire album on CD.
Tracklist
A1 A Voz Do Povo
A2 Carcara
A3 Pra Mim, Nao
A4 Peba Na Pimenta
A5 Minha Historia
A6 A Lavadeira E O Lavrador
B1 Pisa Na Fulo
B2 O Jangadeiro
B3 Fogo No Parana
B4 Ouricuri
B5 O Bom Filho A Casa Torna
B6 Sina De Caboclo