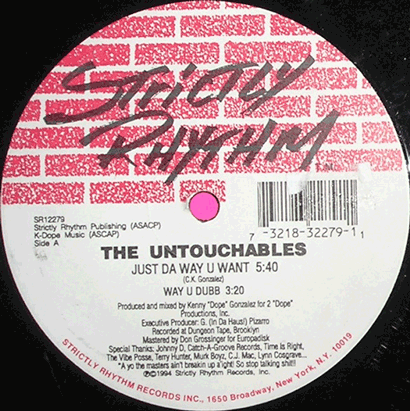 Forgotten Treasure: The Untouchables aka Kenny Dope "Just Da Way U Want" (1994)
This is truly a special one. A true forgotten treasure which is connected by many others because of the sample it's based on!
A few years before Dilla exquisitely used Minnie Riperton's soul masterpiece "Inside My Love" for "The Look Of Love", I was mesmerized by "Lyrics To Go" by A Tribe Called Quest. That was my introduction to the sample which would come to be used over and over. I pretty much love any track with that sample, it's just undeniable.
Apparently I wasn't the only feeling this way. A few months after the release of Midnight Marauders, Kenny Dope Gonzalez released "Get On Down". That was a sublime instrumental affair featuring the "Inside My Love" sample alongside some Wu-Tang & Tyrone Washington. An amazing sonic collage. I remember listening to that 12″ continually that summer of '94.
Then early that fall I came across another Kenny Dope project under The Untouchables moniker on Strictly Rhythm. I was in for a shock. It was that same Minnie Riperton sample again but under a storming House groove. I was immediately struck by the minimalist feel, loudness and intensity of the track.
I'm still going crazy whenever I hear this 12″ almost 20 years after it was released. Both sides are amazing and could easily define by themselves the meaning of raw House groove!!! (BTW, if you don't have this gem on vinyl you can get it on Beatport)
The Untouchables aka Kenny Dope - Just Da Way U Want
---
Taken from Rawsoul's newest "The RawHouse Supreme Show" mix on Motion.Fm.  ↓ Check it out below ↓