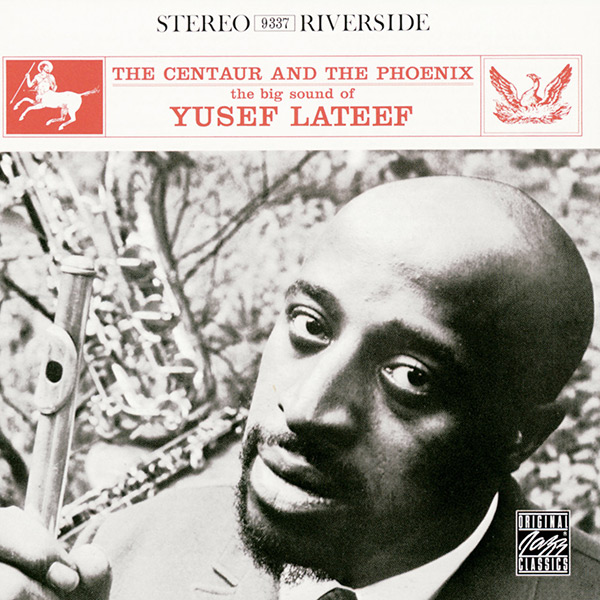 Forgotten Treasure: Yusef Lateef "The Centaur and the Phoenix" (Riverside, 1960)
The history of Jazz is full of eccentric and unique thinkers (more of the former and the latter). Women and men such as Charles Mingus, Melba Listen, Terry Pollard, and Cecil Taylor are just a few that immediately come to mind. However, musicians like Sun Ra, Pharaoh Sanders, Alice Coltrane, and Rahsaan Roland Kirk are difficult to even categorize in terms of genre focus…which is absolutely amazing to me. Over almost thirty years of collecting music I've been able to create a pretty decent catalogue of most of the big names of the classic era, whether they hard bop or avant garde. Yet, there is one man who always slips my mind and is quite an anomaly to my ears (and my collection).
Yusef Abdul Lateef (née William Emanuel Huddleston) has quite the discography, but sadly is not mentioned enough as a pioneer of unique and/or complex composition and arrangement. The multi-instrumentalist was born in Chattanooga, Tennessee (1920), but spent most of his childhood in Detroit, Michigan. A few years after his conversion to Islam in 1950, Lateef started recording as a leader. If you go through many of his early albums, it is easy to see the uniqueness of Lateef's thinking. Focusing primarily on tenor saxophone, he became quite the force on flute too. "Eastern" instruments such as the argol, the rebab, the ocarina, and various percussive objects make their way into his early albums. Another instrument that Lateef used throughout this part of his career was the oboe. This, along with the bassoon, make The Centaur and the Phoenix (Riverside, 1960) one of his most beautiful records.
The line-up is pretty great, as established players join a few names that would eventually become legendary. Clark Terry (trumpet) and Curtis Fuller (trombone) had been recording regularly at this point, while the pianist Joe Zawinul had just started his career with Dinah Washington and a few others (this recording takes place right before Zawinul takes a place in the Cannonball/ Nat band). Richard Williams (trumpet), Tate Houston (baritone saxophone), Lex Humphries (drums), and Ben Tucker (bass) make great contributions throughout the record. The mystery performer, at least to me, is Josea Taylor (bassoon), who, according to the liner notes, had "recently moved to New York after teaching woodwinds at a North Carolina college".
The album starts off with "Revelation", written by pianist Kenneth (Kenny) Baron, a Philadelphia native was only 17 years old at the time. It is a bustling tune that quickly commands the listener's attention. One could easily envision feet moving swiftly along the sidewalks of a busy New York City street on a Saturday afternoon or riding through London on a chilly night out on the town. The punchiness of the horns makes this tune pretty easy to follow from solo to hook. "Apathy", a Lateef original, starts off so fucking hard. Again, the ensemble makes use of strong horn lines that knock at all turns before, during, and after all solos. This piece reminds me of something that would later appear on Jimmy Woods classic lp Conflict (Contemporary, 1963), so it seems that Yusef Lateef was a bit ahead of his time when it came to developing the craft of Hard Bop. Side A closes out with "Ev'ry Day (I Fall in Love)". Arranged by Barron this ballad has Lateef on flute and oboe at different points and the effect is touching. The tune has a slight baroque feel to it that makes it perfect for an evening at home or a slow dance in a ballroom.
The second side opens up with the title track, written specifically for the recoding date by contemporary classical composer Charles Mills. Mingus-esque or Gil Melle-like, the piece is very much akin to watching a Cubist painting come to life. The arrangements are complex and it seems that no two lines are ever repeated by anyone in the ninetet. The soft opening of "Iqbal" (meaning luck) is shaken abruptly by the force of blaring horns before the body of the composition really takes form. Lateef's focus on the argol and oboe is very apparent on this one, as they play well alongside the bassoon solo. "Summer Song", also by Mills, is a beautiful composition that, again, has baroque tendencies throughout. The arrangements conjure up nostalgic memories of times with my family as a youth in Gastonia, North Carolina. Slow and intense, Lateef's composition "The Philanthropists" closes out the lp. The brooding arrangements stand as an audio dedication to Duke Ellington whose soundtrack for the film Anatomy of a Murder was released the previous year.
The Centaur and the Phoenix is a beautiful lp from start to finish, full of thought provoking compositions, arrangements, and solos. Though it was recorded early in his career, it proves that Yusef Lateef had not only paid his dues, but had also paid close attention to the masters before him. Blues, Classical, and of course, Jazz are represented in the highest caliber. However, it is his usage of instruments not typically used in these kinds of structures makes this record not only one of my favorites, but a must-have for those interested in creatively infused music.