Fredfades Brings The Heat While Keeping It Cool
It's no secret that Norway's Mutual Intentions crew has been becoming more and more of a staple in the worldwide hip-hop scene. Paying homage to the foundations, pushing the sound forward without falling into boom bap clichés.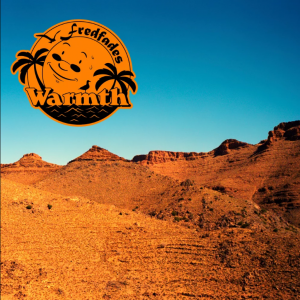 Fredfades is a crucial member of the crew, starting out as the DJ and crate digger, but moving to the producer's chair shortly since the late 2000's.
Fred has been laying his touch on a number of crew projects as well as two album collabo projects Jazzcats with Eikrem (2015 on King Underground) and Fruitful with Ivan Ave (2015 on Jakarta). His upcoming LP "Warmth" marks his debut solo release, calling upon artists he has met along the way for features such as MNDSGN, MED, Ivan Ave, MoRuf & MoShadee, among a handful of others.
He was nice enough to share an unreleased track from his album, and to discuss his process, inspirations, as well as what wines should be paired with your first listen of "Warmth".
---
Lexis: What's up Fred? How does it feel for the album to finally be finished and ready for release?
Fredfades: It feels good! It's been a while since the masters were delivered. The artwork took some time, and after that we experienced some major issues with one of the songs on the LP on the first discs received from the plant. We basically had to remaster one song and cut new discs, then approve the 2nd set of test pressings! Happy we did it though. The second pressing is way louder and has more detailed hi's / lo's too.
Yeah the label (King Underground) did a nice job with that Deluxe bundle! Can't wait for the cassette as well.
Fredfades: Yes excited for the tape also, my private tape collection getting bigger as we speak [laughs]. The deluxe bundle is killer. Shoutout to the designer Even Suseg, for a lot of ideas on what products to make and how they should look.
So this is your first solo album (after two full length collaborations, one with Ivan Ave and the other with Eikrem). Tell me a little bit about your inspirations and challenges you had as a solo artist.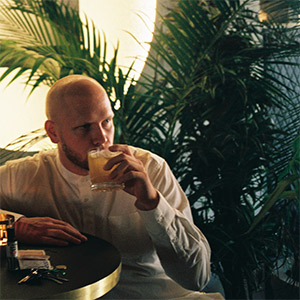 Fredfades: I never really worked towards a concept with the album really, I made loads of music over a long period, and as my own music in my iTunes library grew bigger, I just took all my favourite productions and arrangements and started to create a sort of a beat tape that had a certain style to it. I planned on later pitching it to different artists.
I wrote rappers names in the titles in iTunes, and pitched them specific tunes, and I'm glad I got to work with so many of my favourite artists. There wasn't really any struggles making the album, but I did scrap shitloads of songs and so I kind of feel bad for using other people's time. That was the only challenge I think.
Do you ever struggle with the whole "Beat Tape" vs. "Album" labelling on a project like this? Does the inclusion of featured guests (Mndsgn, Ivan Ave, MED, MoRuf Koreatown Oddity, Kristoffer Eikrem) play a role in making a difference between the two?
Fredfades: Everything does. I go into the project file with the acapella and do rearrangements and mixing and add additional stuff in the production once vocals are received. I mean, I basically just produce groove music. I like to work on my own with rough concepts and pass them on to others, then later on take stuff further once vocals are laid down. Synthesizers, trumpet, more additions to the beats are often done in the end. A Beat Tape for me is just a collection of stuff you want to take further, an Instrumental Album and a Beat Tape are not the same. If you put out an album without any vocals on it, it has to be something more than a collection of concepts. Just a ongoing groove alone is usually not enough to keep my attention for a long while. I mean I would get a kick out of chords/bass/drums I make at home and let it repeat for three hours, but it's not like I would put it out before it has more of an arrangement to it. Listeners are very impatient in 2017, especially diggers, and professionals who search for new music all the time.
I heard the album was mixed in NYC, how was that experience? Was it a bit of a dream for a kid growing up on US rap to finish an album out there?
Fredfades: I'm really social when I'm back home so I basically booked tickets to NYC just to get away from my friends and girl so I could focus on mixing all the songs to 100% completion. They were all rearranged and stuff, I just had to sit down with headphones and really mix and listen through them a zillion times. I ended up doing a last song there also, the one with Ivan Ave, MoRuf & MoShadee.
I figured because MoRuf & MoShadee are both from Jersey and know each other I would set up a collab. They brought something fresh to the project! I also went to Jersey twice during my NYC trip this summer. Once to hang with MoShadee, and once to trace down this old soul group to buy loads of their super rare 7" records from the early '80s. The studio sessions with MoRuf and MoShadee were done at the hotel room in Brooklyn where me and my friend Disco Terje (he arrived after the record was mixed) stayed during our vacation. MoRuf, Terje, and myself filled up the whole sink in the hotel room with cold ice and a bunch of beers. MoRuf had already received the beat a week earlier, written his verse and murdered the whole thing pretty fast.
The day after, MoShadee came through and did his verse after a bunch of scotch before we went out partying. I made a rough mix of the track and sent it to Ivan back in Norway. He really liked the track and wanted to hop in so I extended the song and sent him a new version of it. A few days later he delivered his stuff which was of course fire. Then I wrapped up the whole thing and sent the record off to mastering.
Speaking of Norway, Ivan Ave, and the whole the Mutual Intentions crew. Does it still surprise people from the outside to hear this very pure approach to hip-hop come out of Norway?
Fredfades: I think the question usually comes naturally because both Ivan Ave & Charlotte Dos Santos speak with very fluid and genuine American accents, in person and in their music. As far as music production goes I don't think location is very relevant, but we don't have a crazy amount of contemporary artists from Norway to brag about to be honest. We're getting there though. The internet is the way of life nowadays and I see a lot of good stuff happening to Norwegian musicians internationally, especially in the electronic/house/techno scene. Norwegian Hip Hop has been weird for decades, and the stuff me, Ivan, and the rest of the Mutual Intentions crew is doing is really exporting products. We have a super great and underrated history in Jazz though. Norwegians was killin' it in the '70s.
Oh yeah no doubt there has always been killer grooves out there. A lot of good record digging material no doubt!
Speaking of which you are also quite the DJ and digger. Loving those Touchdown mixes! Tell me about your love of DJing & digging. What do you get from that side that you maybe don't get from producing?
Fredfades: I don't know, I consider myself a record collector & DJ before everything. I did that for a long time before I did production and I still spend way more time on that. I buy/trade/sell records all the time, and hunt down old artists and grab piles of their stuff so I can resell and get more money for more records. It's a crazy hustle that is simply necessary if you're heavy into records. The deeper you get, the flatter your pockets will get. I just get a kick out of collecting and spinning records really. The collection has been mad huge at some points, but these days I am selling a lot and have got rid of a several thousand records the past three years. Trying to tight up my collection. I collect everything, but my main focus is Jazz & Dance music from the late '70s to early '80s.
Speaking of expensive hobbies, aren't you also quite the wine afficionado! What wine would you recommend pairing with a first listen of "Warmth"?
Fredfades: Well, I do buy a lot of wine, but not necessarily expensive vintage stuff as my pockets simply don't allow it. I DO enjoy classic wines from Jura/Burgundy etc, but I'm into a lot of fuzzy, unfiltered cloudy natural wines. It gives a bigger bang for the buck and saves me even more money for records [laughs].
These are some current, cheap, favourites of mine I think everyone should try while listening to the Warmth LP:
Stéphane Tissot – Les Graviers
Patrick Sullivan – Haggis
Michael Roets – Saffer Silvervis 2011
Testalonga – El Bandito Sweet Cheeks 2012
Matassa – Coume de lÓlla Blanc 2015
Christian Tschida – Himmel Auf Erden Rouge
Remi Poujol – Le Temps Fait Tout
Sébastian Riffault – Les Quarterons Sancerre Blanc 2013
…and almost anything from Lucy Margaux/Domaine Lucci
Damn, you weren't kidding! Best of luck with the release and keep up the outstanding work!
---
Fredfades' "Warmth" officially releases June 2, 2017 on KingUnderground Recordings