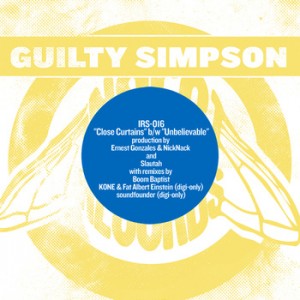 To finish off 2011 in beauty, here is my review of Guilty Simpson's Close Curtains EP that released 3 weeks ago on (iN)Sect Records. With the amazing production of Ernest Gonzales also known under the name of Mexicans With Guns on Innovative Leisure, it already promises to introduce quality Bass Music to the raw detroit HipHop audience. The EP contains a more typical yet decent Simpson track called Unbelivable as a B side produced by Slautah. In addition to it is an outstanding remix of the title track by BoomBaptist after whom I've been waiting to come back since his BoomBaptism beat tape. The limited red 45 can be purchased on Fat Beats and the digital release is also available on iTunes. Don't sleep on this huge release!
Guilty Simpson-Close Curtains (Official BoomBaptist Remix) by BoomBaptist
Shout outs to Mark The Magnanimous who first introduced me to BoomBaptist last year with this song.