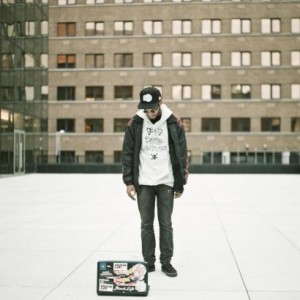 I first took notice of Kaytra Laboom's  music via youtube, bancamp and soundcloud and was struck by how he managed to travel through genres and stand out; holding his own with his hard yet minimalist beats. Every time I vibed off of his homecooked beatscapes I was in awe at how many dichotomies were at play. This was a young and hungry cat laying down the polished tracks of a vet. Some of his hardest hitting beats  were the most sparse and airy ones; an abstract piupiu jedi who took would throw you for a loop (pun intended) and drop a straight-sampled pattern once in a while.
Bottom line was, his tracks were bumping loudly through my earphones and getting serious burn whilst keeping my neck sore.Kaytra captivated me and he's been doing a lot of that lately. From his various festival appearances and nominations, signing to HWW records and his collabo projects with Alaclair's Robert Nelson and Krystale Kaytranada has been honing his craft and coming into his own. However, he's kept us guessing and is following his instincts in order to never get boggled down in one space and maintain his fresh and distinctive sound.
His Erykah Badu and Sundance remixes are what I usually play to introduce his music to friends. The lush beat chosen for "Love of my Life" is stellar but it's the perfect melding of the vocals that make it. The Sundance remix features a "phantom" hook, where Kaytra went in the opposite direction of the original while still capturing its essence. All these qualities are infused in his latest remix, released under his new moniker, where he takes on Janet Jackson's "If". Once more, the young producer has surpassed himself with this infectious banger, where Kaytranada takes us for a ride on the house tip.The intro lets the vocals shine and just seep in until you feel surrounded by the familiar house vibes. Then Kaytranada hits you with a hook that will have anyone in the vascinity head nod in unison. The booming bassline wobbles throughout providing support for the breezy vocal stabs. Kaytra does not stick to one pattern either, something sorely missing from many remix attempts. Just a killer track!
As I compulsively listened to the song on the subway, I was reminded of Jay Dee's Got till it's Gone remix. Apart from Dilla's roots in Detroit House and his undeniable influence as the Pope of Piu, the connection was more in the way of the impact that remix had when it dropped. Dilla was known by heads, but not a household name, yet the song became THE version and gave a good shot to revive Janet's career. Just like this If remix, it could be bumped in the club speakers or living room earphones and it had replay value for days. Janet moved from JayDee to J.D, but If she ever hears this remix she might be tempted to make it the lead-off single to her return album. One thing is for sure, If Kaytranada continues to evolve and keeps true to himself: sky is the limit! I'm just glad I can witness the well-deserved ascension of a seriously raw and talented beatmaker consistantly putting out undeniably dope music.