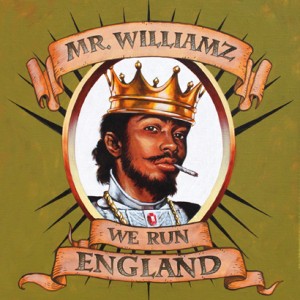 We only discovered this track and few weeks ago but its already one of our favorites of 2012. You might have heard it in our last MIMS monthly radio show, or in some of Lexis' live sets too. Big Big track.
"We Run England" is the debut single off the More Spiritual Riddim, a Green Lion production. Based around the iconic foundation dancehall melody created by legendary Jamaican producer Henry 'Junjo' Lawes', the More Spiritual riddim is the brainchild of Green Lion's Dana 'Chai' Knowles and Zeke Stern.
Stern went on to complete the riddim but not before traveling to Jamacia to add a horn section led by veteran horn players Nambo Robinson (trombone) and Everton Gayle (saxophone). Once complete, Stern selected reggae music's most cutting edge artists to voice on the riddim including Million Stylez ("Fattie Fattie"), Kabaka Pyramid ("Rebel Music"), Perfect ("Hand Cart") and YT ("Born In Babylon") as well as two contributions from Mr Williamz.
The first song to be released, "We Run England" traces Mr Williamz' journey from Jamaica to his adopted home of England and then flips the script on social relations as we know them. Powerfully crafted but without losing its playfulness, "We Run England" is both fun and food for thought.
Lyrics
Now here come di ting called 'the general no field marshall no partial'
Yuh hear me ah say
Yeah, watcha
Dem say the queen run England
Buda bye bye bye
Dem say the queen run England
Come catch di style
Dem say the queen run England
But watcha now
Ah no she run England
Come make dem know say ah we run England
Dem shoulda know seh a we run England
But ah watcha
Because we big and we broad and we well super charged
Right round the world we larger than large
A we di girls wan' dem don' wan Prince Charles
Any where we deh dem just gi' we nuf applause
Cuz ah we run England
Buda bye bye bye
Is we run England
But ah watcha now
Me grow up ah Jamaica
In ah di countryside pon twenty acre
In St Mary, a place Windsor castle
And I attended St Mary's High School
Returned to London as a teenager
My first stop was Buckingham Palace
Looking at my house den I step up to the entrance
Security rush me and dem ask me pure question
Dem all ah put me through pure interrogation
Dem ask me what's the meaning of my visitation
Me tell dem seh I mon did gone pon vacation
Furthermore, is we run England
You shoulda know
Me step up inna the palace grounds
Prince Phillip and Harry dem gather roun'
All Beckham in deh having a kick about
Da next ting who me sight now Camilla Bowles
She ask, "General, do you want a Guinness Stout"
When she ah talk me didn't even listen to her none at all
Because is me and her majesty did a talk
The next ting is who rush me now Prince Charles
Ah talk about how say him want me sign autograph
Me look pon him and just say, "Bredrin ease off"
Like you no see me and your mudda deh ya a so we talk
After dis she going to gi' me a foot massage
You shoulda know, is we run England
Played by the Hitbound Sound to Make you rock and gather round as I would say
Do it ya
Yah hear dem tak 'bout de government
Pon TV dem make a heap a statement
Up ah Westminster talk 'bout parliamet
But without the people dem don' have no strength
You fi know seh a we pay the queen rent
Yeah, is we pay the queen rent
So make me tell you seh a we run England
Yo, is we run England
Me say big and we broad and we well super charged
Right round the world man larger than large
A we di girls wan, dem no wan Prince Charles
Step in ah the place dem sight di full entourage
Dem say Mr. Williamz, dem give a round of applause
Cuz we run England
Released by: Soul of the Lion
Release date: Sep 18, 2012