Give The Drummer Some: Karriem Riggins On His Next Moves
If you haven't heard of Karriem Riggins by now it's time you got acquainted.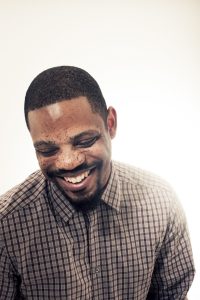 Born and raised in Detroit, Michigan Karriem picked up Jazz drumming at a very young age, and by 17 years old he was playing alongside Betty Carter. It was during middle school that he expanded into producing Hip Hop tracks while still maintaining a Jazz-like mentality, displaying an impeccable knowledge for rhythm, chord progressions, and a world-class sense of music in general. He has worked with a staggering amount of big name acts such as Common, The Roots, Erykah Badu, J Dilla, Robert Glasper, Kanye West – the list goes on.
Now living in Los Angeles, Karriem Riggins prepares for the release of his second solo album entitled "Headnod Suite", coming February 24, 2017 on the infamous Stones Throw Records.
Mike Jones: Mr. Riggins it's a real pleasure to meet you.
@KarriemRiggins: Likewise, I'm very honoured to be a part of what you guys are doing.
Thank you, it means a lot. So, you have a new album fast approaching – the "Headnod Suite" – I'm super excited for it! Tell me how you see it in your head, is it a beat tape, an album, rhythm study, collection?
@KarriemRiggins: It's actually a mixture of everything. I sat in the studio with records and instruments that inspire me and fused everything together to create something that will add on to the art form.
Word, so how do you usually start a track? You're a drummer so do the drums come first or is it samples and melodies?
@KarriemRiggins: Most of the time I start with drums, but as of recently being on tour and having down time on airplanes I compile a lot of different ideas from samples or some of my recorded drums. I loop or chop them up so once I get to the studio I have an abundance of things to spark the creativity.
So a kind of absorb and release type of thing?
@KarriemRiggins: That's correct!
What would you say your ratio of time spent on digging and listening to music is compared to actually making your own music?
@KarriemRiggins: I definitely dig and receive information more than the creative process. I feel that listening to music and surrounding myself by great musicians makes the process of making music easier and effortless. I'm more of a student most of the time… and of course practicing!
I feel that for sure! In order to speak you gotta be able to listen! When looking for samples, what catches your ear most often? Do you tend to focus on melody, a type of sound, an instrument, a rhythm?
@KarriemRiggins: Pretty much everything. I love interesting chord progressions. I also listen to a lot of African rhythms and those definitely spark different syncopation ideas. It's all a fusion for me so I take from everything that I love and put it in a pot. Of course my favourite instruments are the drums and the bass. The possibilities are endless with those instruments. Philly Joe and Paul chambers, Bootsy and Clyde Stubblefield. They're who made me fall in love with the combination.
Clyde Stubblefield rest in peace.
Talking about syncopation, I wanted to ask about one of the songs you have released from the "Headnod Suite" entitled "Oddness" which is in 3/4. Could you see it becoming more common in Hip Hop to use more uncommon time signatures because of the ever-tightening link to Jazz music?
@KarriemRiggins: Absolutely! There is so much room for odd meters in Hip Hop. It has been done before but I think it can be taken to the next level once some more experimental rappers and producers practice those time signatures and make it feel natural. Most of the time people shy away from odd meters because it can seem challenging, but it can also be amazing.
I've been practicing odd meters by subdividing them to try to make it feel like 4/4 timing when it's actually a rhythm played really fast in 5/4, while the accents make it seem like 4/4. It's a work in progress [laughs].
Oh wow! Sorry, I'm also a drummer so I'm really into this sort of stuff too [laughs]. That sounds dope! Taking a bit of a detour, I want to ask you about your performance at the White House for NPR. It was extremely powerful and really beautiful. What did it feel like performing at the White House?
@KarriemRiggins: It was a very special moment in my life to be a part of something that was so meaningful. To be able to perform and spread our message in such a place was something historical. We performed songs about mass incarceration and women taking over the world in the White House, it was classic!
Absolutely! I gotta be serious with you I started getting kind of emotional during "Letter To The Free", that's some serious stuff! Do you feel, maybe a bit more now than in the past, a kind of responsibility to use your music to spread a certain message to your listeners?
@KarriemRiggins: I have always felt that way from the beginning. I'm just really blessed to be able to work with one of the greatest MC's in the world, Common, who has a very powerful voice. I love spreading the message and love in the music. That's all I'm about.
Yessir. You are someone who has worked with a massive amount of big names: Common, Dilla, The Roots, Kanye, but you also seem really open to working with younger up-and-comers like Kaytranada.
Is there anyone that is just starting out and "on the come up" that you have been paying more attention to and might like to work at some point in the future?
@KarriemRiggins: I'm very honoured to work with all of those people and I think Kaytranada is amazing. Recently I worked with a rapper named Nick Grant who is incredible, his album "Return Of The Cool" is out now. I heard some of Gold Link's new music and I'm really digging what he's doing. I also just recently talked to D'Angelo about working on his new album, and I'm praying that that comes into fruition. I just want to make great music with like-minded positive people. God willing it's all in motion.
How do collaborations with you usually take form, when do you know you want to work with someone?
@KarriemRiggins: I can really tell who has a passion for taking the music to the next level. I usually hear it within the first 30 seconds. Those are the people that inspire me to want to collaborate.
Have you ever got into the studio with someone where it was hard to initially get something started?
@KarriemRiggins: Not really. I've been in sessions where we don't come up with something initially but then the next day comes an abundance of songs created.
Well that's good! So your collaboration with Madlib, "The Jahari Massamba Unit" – when are we going to hear more of that?
@KarriemRiggins: That is the million dollar question… I'm thinking in the very near future. Egon and I spoke about it recently.
That's great to hear. What's it like working with Madlib, does it ever get overwhelming? He seems like he is literally unable to stop making music.
@KarriemRiggins: He is such an amazing brother, inspiring to say the least. His work ethic is crazy. Our connection is amazing, we both work from our separate studios and pass each other files. That's how all of the stuff was created, we're rarely in the studio at the same time.
I've heard that about him, he kinda just slips people CD's and what not. Well, I'll be on the lookout for that stuff as well. You're getting me excited about the future, this is good!
@KarriemRiggins: Yes I look forward to these releases coming out as well! So much music in the can right now.
So what does performing live as Karriem Riggins look like? Will you be bringing the "Headnod Suite" to a live setting?
@KarriemRiggins: My live show consist of me and a DJ. A lot of the drum and sample stuff is coming from a drum sensory company call Sensory Percussion. They are attachable drum sensors which pick up five or six different parts of your drum, allowing you to assign a sample to each part. It makes it very easy to perform the album live, almost like a one-man band type show. I've been practicing it for a while and I'm looking forward to being able to present it to an audience soon. It's nuts, it's the future.
I believe you, damn! Could you see yourself getting a band together and figuring out arrangements for the tracks?
@KarriemRiggins: I could definitely do that, but I did that for "Alone Together" and I have the live recordings ready for release. I kind of feel like I've been there and done that, so I want to approach the "Headnod Suite" from the boom bap side of things.
I have to ask about the "Headnod Suite" album cover, I really like it. What's the story behind it? Who designed it, what made you go with something pixelated, and does it have any link to Mr. Oizo's "All Wet"?
@KarriemRiggins: Not at all, it was totally Jeff Jank's idea. He sent me a few different options and this was my favourite one. I liked some of the other options too so I want to use them for later releases. I think he is an amazing artist, thanks Jeff!
How did you know when the "Headnod Suite" was finished? It's got a whopping 29 tracks! Is there a reason why you decided to include so many instead of breaking it into a couple different releases?
@KarriemRiggins: I knew it was complete when J Rocc added his magic. I wanted to add that many songs because of the length of the album, and I wanted it to tell a musical story. I wanted to fuse all of these different genres together to create one music. It's not just Hip Hop or just Jazz or anything in particular, it all works together.
Well I wish you lots of luck with the release and with the upcoming collaborations as well. It sounds like you've got a lot of things ahead so keep doing the do!
@KarriemRiggins: Thank you sir, I really appreciate this.
---
"Headnod Suite" releases February 24, 2017 via Stones Throw Records.