MIMS Radio Live Sessions – S02E03
Episode 3 of MIMS Radio presented by Montreal's Phi Centre puts the spotlight on some fantastic Montreal talent.
For this week's in-studio performance we have the rising Montreal MC, ROWJAY who has just released his newest EP "Hors Categorie". We also have an interview with PATTI SCHMIDT one of the main curators at Mutek and an instrumental part of the Montreal music landscape for the past 20 years. As always we have some fantastic selections of brand new music from your hosts Lexis and THE ONE TASH.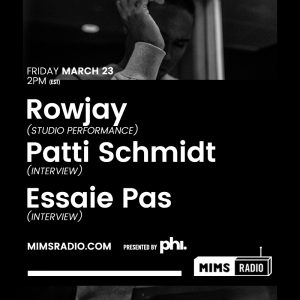 Crucial Material
Game Changer: Patti Schmidt
In Situ: Rowjay
Version Excursion with The One Tash
Outro
Listen to the Full Show
Listen & Subscribe on iTunes
Tracklist
Crucial Material
Waajeed – Mother
Budgie – Best Believe (feat. Fatima)
Game Changer – Patti Schmidt
William Basinki – dlp 1.2
Beatrice Dillon – Face B
Version Excursion
Bobby Caldwell – What You Won't Do For Love
2pac feat. Eric Williams – Do For Love
Michael Boothman – What You Won't Do For Love
Otis Gayle – What You Won't Do For Love
Goldie feat. Diane Charlemagne – What You Won't Do For Love
Junior Boys – What You Won't Do For Love
Guest Artist Links