MIMS Radio Live Sessions – S02E07
We had some fantastic interviews for Episode 7 of MIMS Radio presented by the Phi Centre!
On the phone we had Daedelus, one of the pioneers of LA's now infamous Beat Scene, to discuss his album "Taut" and the music industry at large. Montreal Soul singer Fredy V joined us in-studio for a performance, backed up by Shash'U and Melissa Pacifico. We also we're able to catch London's Emma-Jean Thackray on the phone to talk about her new EP which has been making big waves in the London Jazz scene. All this interspersed with selections from Lexis, who hosted the show completely solo!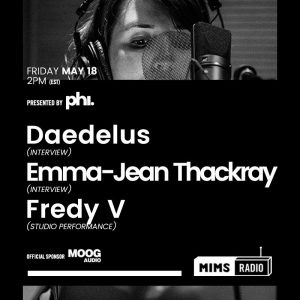 Crucial Material (00:02:46)
In Situ: Fredy V (00:35:32)
Interview with Emma-Jean Thackray (01:06:36)
Interview with Daedelus (01:28:02)
Outro (01:54:56)
Listen to the Full Show
Listen & Subscribe on iTunes
Tracklist
Crucial Material
Emma-Jean Thackray – Ley Lines
Emma-Jean Thackray – Red Bush
Nikitch & Kuna Maze – Another One
Prophet – Insanity
Jonwayne – Last Last Fall
Nfromthewave – Pashun
Commodo – Dyrge
In Situ: Fredy V
Fredy V – Fly With Me (prod. Anomalie)
Fredy V – Free Yourself (prod. Shash'U)
Selections from Lexis
Javonntte – Remember
Laroye – Connected
Toshio Matsuura – Do The Astral Plane
Makaya McCraven – Too Shy (Emma-Jean Thackray Remix)
Interview with Daedelus
Daedelus – Raindrops
Outro
Daedelus – Monstrous Moonshine
Guest Links
Daedelus
Emma-Jean Thackray
Fredy V
Shash'U
Melissa Pacifico