MIMS Radio Live Sessions – S02E08
As always we've got another jam-packed session of MIMS Radio presented by the Phi Centre for you!
ASMA & Walla P are your hosts this week, bringing you some crucial selections of music and things you should know. This episode's Geek Down is all about Toronto Hip Hop, particularly focusing on the '90s Golden Age of the genre; Montreal Afro-Latino musician Boogat heats things up with an in-studio performance; ASMA dives in to the many renditions of The Jackson Sister's "I Believe In Miracles" in the Version Excursion; Lexis steps in for an in-studio interview with UK Garage legend El-B; and Walla P catches Prophet on the phone for an interview who is a Boogie artist from the '80s who recently signed to Stones Throw Records. There's something for everyone, keep it locked!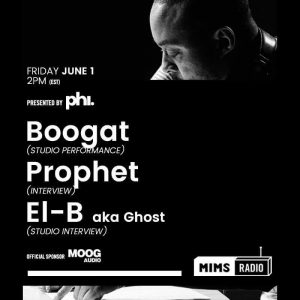 Crucial Material (00:01:39)
Geek Down: Toronto's Golden Age of Hip Hop (00:19:46)
In Situ: Boogat (00:47:50)
Version Excursion: "I Believe In Miracles" (00:58:27)
Interview with El-B (01:21:45)
Interview with Prophet (01:51:43)
Outro (01:54:56)
Listen to the Full Show
Listen & Subscribe on iTunes
Tracklist
Crucial Material
Anderson Paak – Bubblin'
Stimulator Jones – Feel Your Arms Around Me
J Balvin – Cuando Tu Quieras
Full Circle – West End Feat. Solar C
Geek Down: Toronto's Golden Age of Hip Hop
Dan-E-O – Dear Hip Hop
Ghetto Concept – EZ On The Motion
Choclair – 21 Years
Tara Chase – Autonomy
K-OS – Rise Like The Sun
Mathematik – Formation
In Situ: Boogat
Boogat – 3 Ojos
Boogat – Tanto Tattoo
Boogat – Sabes Muy Bien
Version Excursion
Jackson Sisters – I Believe In Miracles
Marco Cappani – I Believe In Miracles
The Pasadenas – I Believe In Miracles
Basement Jaxx – Miracles Keep On Playin' (Red Alert Remix)
Sunlightsquare – I Believe In Miracles
Interview with El-B
El-B – El Brandy
El-B feat. Wiley – Romp
Ghost – The Club
Groove Chronicles – Stone Cold
El-B – El Janet
El-B – Unknown (Forthcoming Ghost)
Outro
Planet Giza – Motivez
Nu Guinea – Nueva Napoli
Guest Links