MIMS Radio Live Sessions – S02E09
A very special episode of MIMS Radio presented by the Phi Centre broadcasting from the great outdoors!
The sun was shining in Montreal so we decided to try something different and set up shop at La Station FMR along The Lachine Canal. To compliment the scenery we had the legendary Christian Pronovost (aka Lost Heroes) drop by to dive into the wild world of Balearic music. Germany's Glenn Astro was also able to come by after playing a show in town to discuss his musical influences. Ahead of his album release party another Montreal legend, Fred Everything, performed a couple tracks live from his new record "Long Way Home". We also were joined by Montreal artist and illustrator Nik Brovkin to discuss his relationship with music and how it affects his visual craft. A big shout out to everyone at Phi for making this wonderful outdoor episode a reality! The One Tash & Lexis are your hosts, enjoy!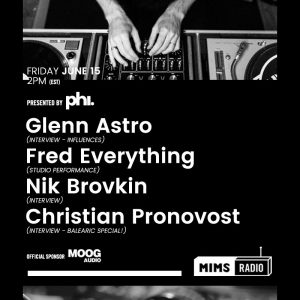 Crucial Material (00:02:23)
Geek Down: Balearic with Christian Pronovost (00:29:07)
In Situ: Fred Everything (00:58:50)
The DNA Of Glenn Astro (01:13:32)
Game Changer with Nik Brovkin (01:43:20)
Outro (02:02:45)
Listen to the Full Show
Listen & Subscribe on iTunes
Tracklist
Crucial Material
Hana Vu – Cool
Reggie Grantham & The New Generation – Come Together
Bastien Keb – Cool It
Jitwam – Unreleased
Fatima – Unreleased
In Situ: Fred Everything
Fred Everything – One In A Million
Fred Everything – Same Old Sound
Fred Everything – Barbarella
The DNA Of Glenn Astro
DJ Die – Unknown
Quasimoto – Microphone Mathematics
Erykah Badu – Rimshot
Radiohead – Idioteque
Joni Mitchell – Goodbye Pork Pie Hat
Game Changer with Nik Brovkin
Jai Paul – BTSTU
Small Talk – Barrio Rich
Outro
Henri-Pierre Noël – Merci Bon Dieu
Guest Links
Christian Pronovost
Fred Everything
Glenn Astro
Nik Brovkin