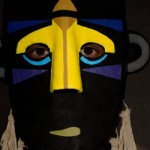 Big big one right here! SBTRKT's been making some major noise these past year with one of the most polished interpretations of the UK dancefloor bass-isms. It's no surprise that his work is just so well produced when you know of his previous background under his slightly less mysterious moniker.
I met SBTRKT in London in 2006 back when he was known simply as his real name, Aaron Jerome. Even back then I was a huge fan of his downtempo, broken, soulful productions on his debut LP on BBE Records, one of my favorite labels.
On his debut LP as SBTRKT he totally pulls off one of the hardest things for any artist making electronic or "dancefloor" oriented music: making an LP as opposed to making a couple of hot singles. Only the most polished producers can pull it off, people like Zed Bias, Falty DL and others manage to keep your attention for 10+ tracks. SBTRKT is a really polished producer, perhaps of the best to come out in the last 10 years in the UK. It is something to do a remix, or a track based on a sample, chop the vocal and so on… but it is quite another thing to record vocalists and musicians on almost every track which is what he has acheived! The dope record features Sampa, Jessie Ware, Roses Gabor and Yukimi Nagano of Little Dragon.
Highly recommended!