THE NEW FACE OF UK GARAGE – Our Top 10 New School Producers
Written by Lexis & Dr.Love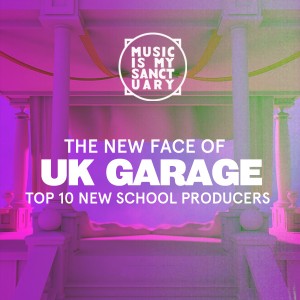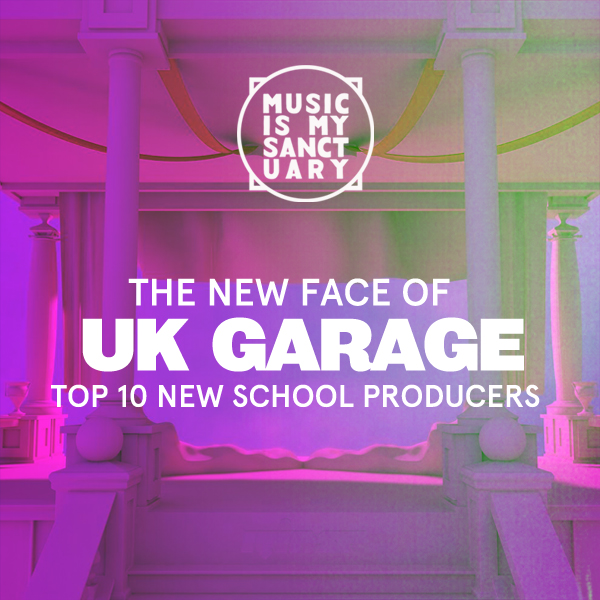 Although we're not based in the UK, our faithful readers know that we're really passionate about UK Garage (and all of its sub-sub genres). We have been involved in the UKG movement since the late 90's in Montreal.
A few years ago we wrote about the 20 Year History of the UKG Family Tree (read here). This time we felt like talking about all of the exciting new(er) talents that are keeping the sound fresh.
Please Note: Not all of the artists mentioned fall under the straight UK Garage category. The objective of this list is to showcase producers who use shades of UKG elements in their tracks.
Here are 10 new school producers we love. (PS: There are actually 15 ha!)
CONDUCTA
Already being described as one to watch amongst heavyweights, 20 years old Bristol-based producer "Conducta" might be a young gun, but his music definitely has it's roots in the old school. Out on DPM records, 'Let Go' is a great example of his signature sound.
MURLO
It's quite hard to describe Murlo without using every buzzword in the UKG book: eski-house-tropical-sino-newage-grime?? He's been one of our favourites for a while, probably one of the most played UK artists on our monthly radio show. A very unique, quirky and instantly recognizable sound. We also love that about half of his tracks are great for headphone vibes and the other half can kill a dancefloor.
FLAVA D
Miss Flava D of the great Butterz crew is the most versatile producer of the bunch. I have rarely heard anyone in the history of UKG move so well between 4/4 stuff, grime productions and classic 2step flavas à la Groove Chronicles in the late 90's. The perfect blend of old and new school!
DJ HAUS
DJ Haus, boss of the UTTU/Hot Haus Recs has been instrumental in the 90's UKG throwback since 2010. Now that the 90'S deep house sound is everywhere, it was only a matter of time before the late 90's four to the floor ukg made a comeback.
Tie: MISTA MEN & C.R.S.T
Whoever the guys behind Mista Men are, I must say I admire the versatility and quality of their releases. Floating between classic ukg, deep house and bass, Mella Dee / Mista men is on point everytime. Back in 2012 they delivered this flawless track titled "Forget U". That bassline has been haunting us ever since.
C.R.S.T is a collective of 4 producers from South Wales who were on an absolute tear from 2010-2012 but have slowed down a bit since then. (We're waiting for new stuff!) Their sound is a great mixture of old school meets new school. Inspired by the golden era of the 4/4 UK Garage, but definitely bringing something new to it.
Triple Tie: COMMODO / KAHN / WEN
Commodo is one of the only young producers that still makes us believe in the power of Dubstep, it's only right that he should be signed to Mala's Deep Medi Musik. He had one of the most hyped songs of last year, his remix of Mala's "Miracles" and has just released an absolutely deadly grime with legendary mc JME.
Kahn is without a doubt our favourite producer in the new generation of Grime and his records are already fetching crazy prices on Discogs and Ebay. He also started out his production career on legendary labels like Peverlists' Punch Drunk and Deep Medi. He can put out nice "deep" dubstep tracks but also dominate the grime "war dubs" with his partner Neek.
Also want to shout out Wen who reminds us of vintage Ghost (El-B) productions from back in the days on a few of his tracks. We had to include at least someone from the Keysound Records family (founded by Dusk & Blackdown), but really all of their roster is solid. After almost 10 years they are better than ever.
SWINDLE
Dance music, whether underground of more mainstream, is rarely produced by classically trained musicians (although some might say so in their bios). Swindle has been playing piano from a very early age and you can hear it in his productions: always more ambitious, "musical" and less repetitive. He is also the one who incorporates the most elements from live musicians and vocalists.
Triple Tie: VISIONIST / MR.MITCH / FATIMA AL QADIRI
One of the most exciting movements of these last few years is the constant evolution of electronic / ambient music with Garage accents (more apparent in Visionist's case). Without getting into crazy sub-sub-genres, all three make beautiful, dark, introspective music. Not so much for the dancefloor (although Fatima Al Qadiri's "Shaghai Freeway" has killed many for us in the past year), it's the perfect headphone / travel music.
PANGAEA
Since the late 2000's many producers who started out with Dubstep have moved on to a more techno-oriented sound. And the evolution of people like Martyn, A Made Up Sound, Objekt has made for some really interesting techno music in the last 4-5 years. But our favourite of the bunch has to be Pangaea who we could almost call a veteran since he started out in 2007 on Hessle Audio. He's developed his own sound of Techno / Garage / Jungle / Rave elements. Deadly and always mentally challenging.
PREDITAH
The young Birmingham producer is more than capable of releasing very diverse sounding material, from grime, trap to the more abstract bangers like "Circles" which is definitely for a more educated dance-floor. But where he has been shining recently is remixing vocal tracks from more pop sounding artists like Jessie Ware, Disclosure and Fabienne. Remixing R&B and pop-tunes has always been a vital part of UKG from Tuff Jam, MJ Cole to Dnd.
SHOUT OUTS
All the labels still doing that damn thing!
Local Action, Keysound, Swing Ting, Tempa, Hyperdub, Chestplate, Black Acre, Punch Drunk, Unknown to the Unknown, Butterz, Tectonic, 2Tuf4U, Swamp81, Ice Cream Records, Confetti, S.O.U.L, ++++
All the vets & legends still doing that damn thing!
Champion, Funkystepz, Altered Natives, Skilliam, Elijah, Brackles, Cooly G, Zed Bias, Pearson Sound, DVA, Peverlist, Pinch, Royal-T, Terror Danjah, DJ Q, Lil Silva, Roska, Wiley, Silkie, Brackles, Mala, El-B, Jeremy Sylvester, RIP / 10 Below, Qualifide / Compound One, Matt Jam Lamont, Danny J Lewis, Mike Millrain aka Large Joints, Sunship +++