MUSONI ET SPARKZ PRÉSENTENT :
SHAMPOING & TONER (the remixes)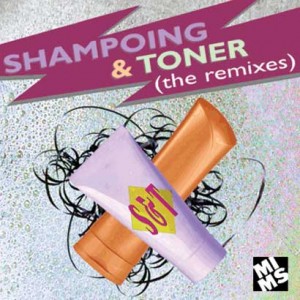 BUY Record!
---
About the SHAMPOING & TONER project
In 2011, High-Klassified and MusoNi, members of the ALAIZ collective, teamed up to present their collaborative effort titled "90's Babies Vol.1". Upon release, I remember the one track that caught my attention right away. It was called "Shampoing Fortifiant".
It sampled an unreleased song by 90's R&B group SWV (Sisters With Voices) in a very clever way. MusoNi flipped it in a simple but genius way and so it was destined to become a future classic. Rumour has it that (fellow ALAIZ member) Dr. MaD blew up his monitors from cranking it up a little too loud. It inspired him to make a revenge remix called ''Après-shampooing'' witch eventually led me to do my own version that I named ''Shampoing Revitalisant''.
Following rehearsals of a tribute band I had put together for the fifth anniversary of J Dilla's passing, I continued working with Noah Barer and Alex Mclean, two very talented musicians. During the same summer ALAIZ released MusoNi and HK's project, we recorded two singles under the "SparkZ n' the plugs" name. One of which was "Toner". The name was derived from the french word 'tonnerre', which means 'thunder' because of the sounds resembling lightning I added to the beat. We chose to give the multi-tracks to a few of our beat maker friends and see if we could accumulate some remixes before releasing it. Since I often had jam sessions at Noah's place, I decided that it would be best to leave my desktop computer over there. I recall working on my own version of 'Shampoing' in the same environment that inspired the 'Toner' track.
In 2012, MusoNi and I got together and realized we were both working on remix projects that were stagnating. We determined that by combining the two, it would make a decent enough number of tracks and collaborators to consider a physical copy of the release. So, that's how ''Shampoing & Toner'' came together. Only afterwards did we find out how shampoo and toner were manifestly related. Turns out that toner is a hair-related product as well. This gave us the feeling that this union was indubitably meant to be. I usually go deep into things trying really hard to come up with conceptual beat tapes. This one just happened to hold itself altogether in the most natural way.
Featured Artists include
MusoNi, Phil Sparkz, Noah Barer, Alex Mclean, Dr. MaD, KenLo Craqnuques, Malky, Shash'U, Munno, Bongiovanni, Guilty and Tommy Kruise
Release Date
April 20th on MIMS bandcamp
Teaser by LNDR
facebook.com/wearlondre
Model: Anna Maria Negulescu
Song: MusoNi – Toner Electric Violet (sparkZ redub)