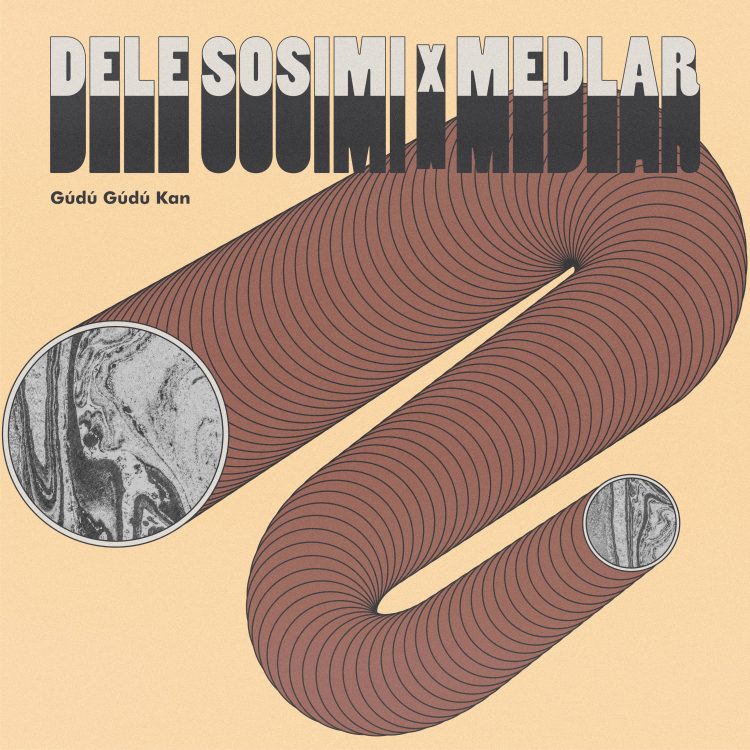 Video Premiere: Dele Sosimi x Medlar "Gúdú Gúdú Kan" (Wah Wah 45s)
Following their brilliant "Full Moon" single, the UK's very own Afrobeat Ambassador, Dele Sosimi, and London based DJ and producer, Medlar, reunite on "Gúdú Gúdú Kan". With its irresistible groove, the song is their own take on an Afro-disco stomper. Music Is My Sanctuary is proud to premiere the vibrant video, directed by Pablo Aravena with graphic effects by Jonny Drop, filmed on London's streets.
Stream/Buy Digital
Support on Bandcamp
The title refers to the role the snare drum plays and its relationship with Ìyá Ìlù kan, or the kick drum. It's a simple but very effective metaphor for this unique musical collaboration where once again the pair forge a sound that's all their own.
The pair first joined forces five years ago, when Medlar was asked by Dele's label to remix the title track from his last album, You No Fit Touch Am. The result was possibly one of the most popular and cherished remixes to appear on the imprint. The producer's respect for the history of afrobeat shined through in the mix of course, but it was his ability to finely balance that with his house music instincts, whilst adding an infectious groove and classic 80s analogue synths, that really stood out.
The success of the remix, without either musician meeting the other, inspired further discussion and eventually studio time together. As songs formed it became obvious that their collaboration had wings, and they soon took it on the road, playing festivals in the UK and beyond.
Never the same set twice, their shows are based around a bank of rhythms on MPC which come alive when combined with Dele's vocals and improvisational keyboard explorations, all of which are dubbed out live by Medlar. Their musical journey is always unpredictable, vibrant and often quite surprising!
Look out for a vinyl EP this September, featuring "Gúdú Gúdú Kan" alongside an as-of-yet unheard remix by Daz-I-Kue, "Full Moon" and the much sought after Medlar remix of "You No Fit Touch Am"!
Be on the lookout for the final piece of the puzzle when Daz-I-Kue's remix of Gúdú Gúdú Kan drops in September, with all four releases becoming available across two limited edition vinyl releases in October, the first with full length originals of "Full Moon" and "Gúdú Gúdú Kan" alongside the sought after Medlar remix of "You No Fit Touch Am"; and the second with full length remixes of "Full Moon" by Detroit Swindle and the aforementioned "Gúdú Gúdú Kan" remix by Daz-I-Kue!