90's GARAGE – The US & UK Connection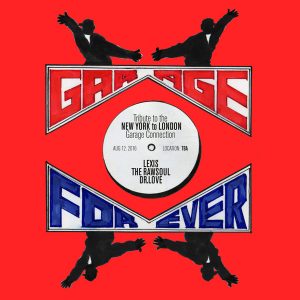 By: The Rawsoul, Dr.Love & Lexis
A few years ago we wrote a feature on the history of UK Garage, from its foundation to the family tree of sub-genres. (Link)
Since Lexis & Dr.Love have been doing UK Garage Forever nights in Montreal these past few years we thought an interesting twist on the concept would be to do a night featuring the connection between the US & UK sounds of the 90's. Who better to invite to join than MIMS' own The Rawsoul, kung fun master of 90's house. (Details of the event)
So here are a few landmark tracks that highlight the New York & London connection!
90's US GARAGE
Cloud 9 – Do You Want Me (Sub-Urban)
An essential Victor Simonelli production that had a major impact on the UK scene. That bassline kills it every time. It was originally out in 1993, then the seminal UK Garage / 2 Step label "Locked On" re released it in 1998. Timeless.
Ty Brunson ft Chanelle – All Of Me (Nott-Us)
An absolutely devastating Garage stormer courtesy of Kerri "Kaoz 623" Chandler. The feel here was very influential to the type of records being played and productions that was starting to build the UK "Sunday Scene". Soulful & energetic!
Liquid Inc. ft Donnah – Just My Friend (Grassroots)
Another Smack music stormer. The rough beats, basslines and vocals were all an integral part of the US / UK Garage connection around 1995. New Jersey own Smack Music, Zach Toms and Todd Edwards are truly pioneers of that era.
The Messenger – Guide My Soul (Nervous)
A very overlooked record in the US-UK connection, probably due to this being a pseudonym used by the legendary Todd Edward only once very early into his career. In fact, this 1993 EP is one of his first releases ever. The unmistakable Todd signature is already there though! If you see this one, pick it up!
Pandella – Feel It (One Eleven Dub) (First Choice)
A very early Todd Edwards remix when he just got started. At that time he was part of the mighty and cruelly unknown "111 East" production team founded by James Bratton. This track have all the crew working and ranting about how to create that perfect remix. Todd Edwards later used his elements on the stunning "Never Ever Far".
Plutonic – Addicted (DJ Disciple) 1995
Perfect example of the US-UK connection, NYC veteran DJ Disciple delivered this slamming remix of British act Plutonic. At the time, only few DJ's had a copy of this mix. It got hyped on all the UK radio stations, such as Kiss FM by Paul Trouble Anderson who played only US Garage, but it was also being played on all the pirate radio stations playing what was then called "Underground Garage" before the UKG term was coined. This mix only became commercially available in 2001 when Matt Jam Lamont (of Tuff Jam) released it on his own label Solo Recordings.
Aftershock – Slave to the Vibe (Darryl James & David Anthony 12" mix) 1993
New York duo, Darryl James & David Anthony did this remix which became an anthem on the UK scene. The song was re-issued in 1999 with 2-step remixes by Dem 2 and Ed Case, but the original 1993 is still THE mix
Mood II Swing – Closer (Swing to Mood Dub) 1994
The Dub on this classic Mood II Swing production really hit big in the UK. As with most US productions they would speed it up to create their own UK vibe in the clubs with live MC's chatting on top. It was eventually given a new life in 1999 when D'n'D released their anthem "Pick me up" which keeps the original hook on top of a 2step beat.
90's UK GARAGE FOUNDATIONS
Indo – R U Sleeping (Grant Nelson / Bump N Flex Mixes) 1996/97
Originally a Chicago production that came out in 1993, the UK producers are the ones who really brought life to this song. The first UKG mixes came out on Azuli in 96 from producer Grant Nelson who, a year later, released new 2step mixes as Bump'n'Flex which was to bring the song to new heights. Then 98 saw the song being picked up by Satellite records who reissued it as a massive package including additional Todd Edwards mixes. Shortly after white labels with Dem 2 mixes saw the light of day. Massive piece of UKG history here.
Tuff Jam– Tuff Jam Vol.1 (New York Soundclash) 1995
I wouldn't call myself Dr Love if I didn't include a Tuff Jam record in here … And what a record it is. On a UK label that called itself New York Soundclash, this was a time when UK producers had a hard time infiltrating the strongly protected US Garage scene. But these guys were on top of the game at a very early point in their career. This record is one of the finest Garage record ever. All 4 cuts are exceptional.
A Baffled Republic – Bad Boys (Move in Silence) 1996
Joint venture between Baffled and Banana Republic, this song is a perfect example of how the UK producers could reinvent a classic Garage song and give it their own twist. The 1995 worldwide hit Keep Pushin by Boris Dlugosch is the blueprint on this "London scene" ANTHEM which came out a year later, and was included on most Speed Garage CD compilations.
KCC ft Emile – Heaven (Azuli)
A perfect example of the British creating a Garage masterpiece. This is a stone cold vocal jam that could compete with anything coming out from the States at that time. Matter of fact it was re released a year later on Shelter Records with remixes from Smack and Kerri Chandler!
Stephanie Mills – (You're Puttin') A Rush On Me (Grant Nelson Remix) (White Label)
This is so hard to pick only one Grant Nelson production. "Nice 'N' Ripe" had such a profound impact on the scene. This remix shows perfectly the link between the US & the UK. Mellow yet bumping at the same time, this is a "hands in the air" moment.
Tuff Jam presents Q-Rius – Spread Love (Tuff Rub Dub) (Casa Trax)
What can be said about Tuff Jam? They were there since the beginning of that UK movement. They always had that classic US swing but with a very special and unique twist. This dub is a fine example of their perfect balance of deepness and ruffness!!!
Soul II Soul – Pleasure Dome (Booker T Mix) (Island)
Soul II Soul is probably the ultimate UK Soul sensation from the 80's and 90's. In the mid nineties Booker T became highly involved with the group. This led to a creative fusion of Soul and UK Garage. Pleasure Dome illustrates this perfectly. It was quite heartbreaking choosing between the Booker T mixes or the Tuff Jam ones!
Underground Solution – US Dub Experience
The duo started in 1995 but truly hit their stride around 97-99 with essential releases on Sound of Underground London. Picked this one because its called the US Dub Experience EP which is another good example of the UKG foundations. Not to be confused with The Underground Solution (Roger Sanchez)