CLOSED: Win a free Count Bass D "BegBorrowSteel" Cassette
Here's your chance to win a free copy of the very limited new cassette from Count Bass D, producer & MC from Atlanta. One of the most inspiring and truly independent artists.
The contest is now over. Congratulations to the lucky winner!
The Prize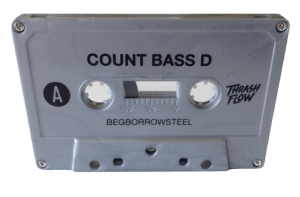 via Trashflow: Count Bass D always intended BEGBORROWSTEEL to be released on cassette. The original release in 2003 closes with the track, "Low Batteries". The title is inspired by the moment a portable cassette player slows down because the batteries are running low. We decided that it is only right to release BEGBORROWSTEEL the same way Count intended it to be released, so it ends with "Low Batteries."
The tape comes with the original artwork from the 2003 CD release, a lyric booklet and a digital download card that includes all of the extra tracks from the later editions of BEGBORROWSTEEL. Finally there is one more bonus track for a total number of 8.
This is a limited run of 100 "steel"-colored and hand-numbered tapes.
No Preorders available.
Available for purchase on August 25th.
Step 1: Register
Simply enter your email:
[ABss_subscribe_form inline_form="1″ button_text="Register" no_name="1″ name_placeholder="Name" email_placeholder="Email"]
The winner will be announced on
Monday, August 25th
.
The contest has ended. Congratulations to the lucky winner, Evan Dejesus!

BEGBORROWSTEEL Release Info
This was originally released by Count Bass D on CD in 2003 through his own imprint, CountBassD.com.
It was later released on February 21, 2004 as an EP on vinyl with one bonus track and CD with 4 bonus tracks, through Jazzy Sport/Octave.
A worldwide release came later on RAMP Recordings on Vinyl and CD which included instrumentals and 3 additional bonus tracks.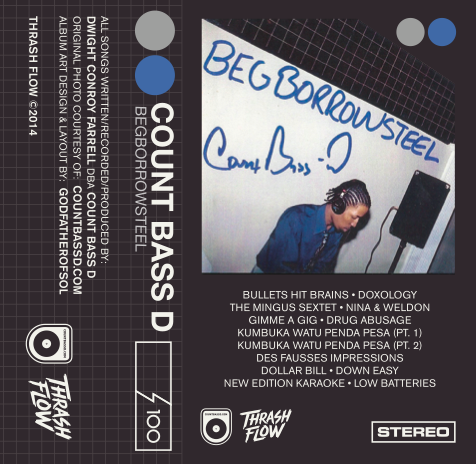 Side A:
01. Bullets Hit Brains
02. Doxology
03. The Mingus Sextet
04. Nina & Weldon
05. Gimme A Gig
06. Drug Abusage
07. Kumbuka Watu Penda Pesa (pt. 1)
08. Kumbuka Watu Penda Pesa (pt. 2)
Side B:
09. Des Fausses Impressions
10. Dollar Bill
11. Down Easy
12. New Edition Karaoke
13. Low Batteries
Additional tracks on digital download:

01. No. 3 Pencil
02. Body By Jake
03. Canerow Waltz
04. Dwight'll Do Anything (pt. 1)
05. Dwight'll Do Anything (pt. 2)*
06. Full Blooded West Indian (pt. 1)
07. Full Blooded West Indian (pt. 2)
08. Like A Pimp
*previously unreleased