via Bleep Labs: Play/Sample/Delay your audio world.
Brought to you by Daedelus & Bleep Labs with graphic design by Trek Matthews.
– Eight samples designed by Daedelus
– Over a minute of total sample memory
– Beautifully crunchy 12bit, 30kHz audio
– One second delay
– Combine four samples at a time with the unique patch bay
– Through mode to use the delay with an external source
– Sample audio or use it to trigger or modulate
– Optional USB adapter allows you you control the device with MIDI as well as reprogram it
– More info and videos in the user guide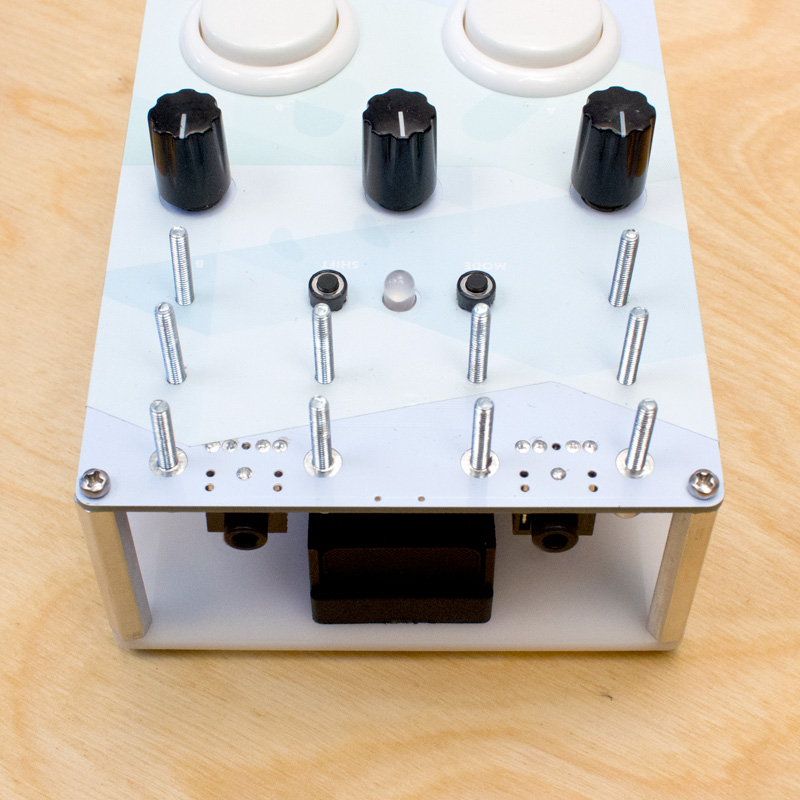 FAQ's
Limited edition? Pre-order?
To allow us to gauge demand and keep the price as low as possible we're producing all the units in one large batch.
Orders will be open for one month. Once it's over we'll make just as many as were ordered.
If there's demand in the future we might do another run but there would be some changes to it. Or it could be entirely different!
Can I buy one after the pre-order is closed?
No the Delaydelus will only be available to purchase between June 2nd and July 2nd.
We will only be producing as many devices as are ordered.
When will it ship?
Shipments will be out will be out 5-7 weeks after orders close on July 2nd.
Can I put my own sounds on it? Will it erase Daedelus's?
The device has 8 permanent banks and 8 user ones. When you record to a "pin" the default sample is not overwritten and can be switched back to. All samples are retained when power is turned off.
Check out the user guide for more info.
How do I reprogram it?
The device was designed using the Teensy 3.1 and can be programmed using the Arduino IDE. We'll be releasing a USB adapter to allow reprogramming and MIDI control before the preorder is finished. More info in the user guide.
Who made this?
The original idea is by Alfred Darlington, aka Daedelus. Code and hardware design by John-Mike Reed, aka Dr. Bleep of Bleep Labs. Trek Matthews contributed the device's artwork.
Bleep Labs will be doing final assembly and fulfillment in their Austin workshop. WMDevices in Boulder is handling SMD assembly.
How much is shipping?
$6 in the US, $43 international. More info here.
Do I need to assemble it?
The Delaydelus comes fully build and ready to make noise. Only a 9v battery is required.
Are the images and video of the final version?
The are of a prototype that is very close to the final version. The production model will only have a few minor changes.
Pre-Order