On October 26th, 2012, Toronto based record label, Do Right Music, celebrated their ten year anniversary. Founded in 2002, Do Right's underlying mission is to share the best in jazz, soul, funk, hip-hop and electronica. In doing so, they have garnered a worldwide reputation as one of "Canada's most visionary and eclectic record labels".
During the nineties, it seemed like every Canadian artist that wanted to pursue a career in any of the aforementioned genres, they would have to move south of the border in search of a sustainable career. After a string of funk and jazz compilations, Do Right boss, John Kong, stepped up to the plate and signed Canadian acts such as Circle Research , Ivana Santilli, Afrodizz and Elizabeth Shepherd. It wasn't long before international praise and acclaim followed, with international tastemakers such as Gilles Peterson pushing their sounds.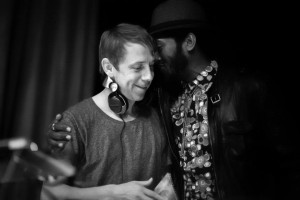 Fittingly enough, Do Right booked Gilles Peterson as the headliner for their hallmark event. Joining Mr. Peterson on the bill were myself, Alister Johnson aka DJ Catalist, The Slakadeliqs, Maylee Todd and the legendary Movement collective, comprised of DJs A Man Called Warwick, Jason Palma of Play De Record, Aki of Cosmos Records, and Do Right boss, John Kong.
The show was sold out before the doors even opened at The Great Hall. To say that my ears and dancing shoes were teeming with anticipation is a huge understatement. I opened the night with a mix of funk, jazz and boogie, with some sprinkles of jazz infused house music. Up next were the Slakadeliqs, a new live project from hip-hop producer Slakah the Beat Child. It was refreshing to hear some new live sounds that fused rock and soul together, further showing the musical diversity of one of Canada's finest producers. From there, my man, DJ Catalist, flexed his digging muscles with a fine eclectic vinyl set(before and after Maylee Todd) of boogie and disco. Both sets spanned all angles of the globe, showcasing his world travels and digging excursions, most notably, some rare South African boogie and disco from a recent trip where he helped produce Zaki Ibraham's new album.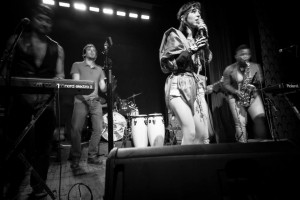 At this point in the night, I was having a great time kicking it with friends, and getting my boogie on. Then Maylee Todd hit the stage. Maylee Todd has been on my radar for awhile now, but I've never had the opportunity to catch her live. I've been a big fan of her music (I've been playing the hell out of Kon's remix of her track "Hieroglyphics"; such a floor stomper!), and all I can say is that she's even better live! I think that says a lot about her performance, considering the era we live in where most artist's musical talents are masked behind heavy production techniques. The final stamp of approval for me was when she covered The Pointer Sisters' "The Number Song". Yes, that very same song we all heard on Sesame Street when we were kids!
Hearing the Movement guys throw down before Gilles was such an aural treat as well. A Man Called Warwick opened up with some nice and heavy Afro heat, followed by some high energy Brazilian grooves from Aki. Hearing John Kong drop Brassroots' "Good Life" on a big system was a treat for the ears and feet. The last man up before Gilles was Jason Palma. In my mind, Jason brought the energy up and kept it there the whole time during his set, and after Gilles' set. As far as I'm concerned, not to take anything away from Gilles, but Jason Palma stole the show, further showing that he truly is one of the best DJ's in Toronto. Over and above his mixing skills in the house realm, the guy truly knows his music, which translates to a good time on the dance floor for any knowledgeable party goer.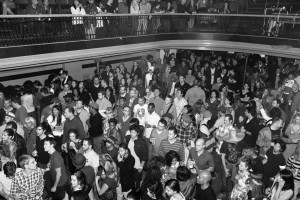 There were so many highlights for me throughout the night. However, hearing Gilles drop Theo Parrish's and Andrew Ashong's "Flowers", followed by Kon's edit of Cerrone's "Hooked on You", sealed the deal for me. I looked at my phone and realized it was about an hours past midnight, I scanned the room and everybody was dancing away. For me, that was very fulfilling to see. Usually, at that point in the night, DJ's start playing more "peak time" sounds, and here's Gilles playing some mid-tempo feel good jams, making it feel more like a house party than a concert.
I guess that's how I would sum it all up; one big epic house party. A sweaty dance floor with room to breath, beautiful people of every ethnic background, smiles and high fives galore, and the music was never compromised once.
---
Linkage