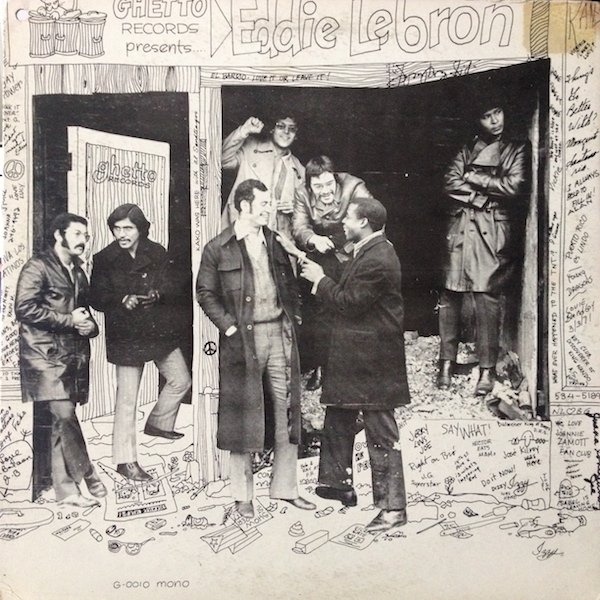 Forgotten Treasure: Eddie Lebron "Ghetto Records presents Eddie Lebron" (1970)
Every record digger has albums that simply elude them. Doesn't matter how many rat feces infested basements they rummage through or how many pounds of sweat they have lost digging through piles upon piles upon piles of Herb Albert albums, certain albums just seem to never show up.
Ghetto Records presents Eddie Lebron is that record for me.
This album has all the traditional recipes of being a holy grail. It starts with the dope ass artwork by legendary cover artist, among other things, Izzy Sanabria. Izzy was well known for his work with Fania, for whom he designed everything from their logo to a heavy amount of all their iconic album covers. The mix of photography with drawings is so ill and fits perfectly the music and the times.
The photo features the band members chilling on the block in front of a storefront. The street is filled with litter, a Puerto Rican flag, and beer bottles. One dude on the cover has on a 3/4th length leather coat with his hands suspiciously tucked in. Just to the left of him is another dude with his fist raised on some Young Lords "Power to The People" gesture. This is the balance of the time the music was made. While the gangs made East Harlem and other neighborhoods danger zones, the Young Lords were awakening the people to the less than human conditions in which they lived. Etched just beneath the album title it reads: "El Barrio…Love it or Leave it!" Precisely.
Another piece of record digger nerdom that makes this album so sought after is the fact that it was on a small label, Ghetto Records. The label, which was semi-run by Joe Bataan, has as much legendary status as the music itself. I go do a whole article just on the stories and rumors I have heard about its very short run.
Then there is the music. The most important thing. This album is a perfect example of the classic 1960's Nuyorican salsa I love. The sound is as aggressive as the realities that birthed it. Personal favorites are "Pena" "Solo Me Admiras" and "Te Lo Dedico".
My birthday just past..but you can still gift this to me…just sayin'.
---
Album Credits
Alto Saxophone – Ibes Gonzalez
Artwork – Izzy Sanabria
Bass – George Rivera (2)
Bongos – David Cilva
Congas – Mike Medina (2)
Engineer – Pat Jacques
Photography By – Rahman Ali
Producer – George Febo, Joe Bataan
Tenor Saxophone – Gabi Ignetti
Timbales – Joe "Papo" Boine
Trombone – Leopoldo Pineda
Trumpet – Rolando Lopez (2)
Vocals – Abdul O'Dool, Alfonso (Cachito) Tirado*, Conchi Soto
Vocals, Piano, Leader – Eddie Lebron