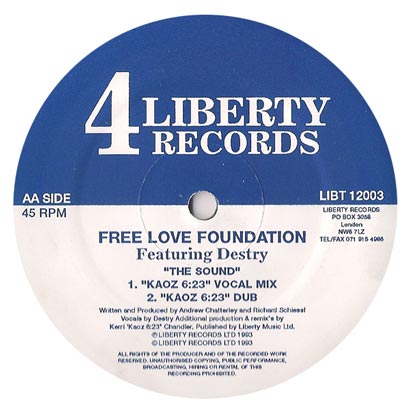 Forgotten Treasure: Free Love Foundation "The Sound" Kerri Chandler Remix (1993)
If you were heavily into UK Garage and 2 Step around 1997-1998, you might be familiar with 4 Liberty records. They had major releases out from Dreem Teem, Colour Girl and Underground Solution amongst others.
Let's rewind 4 years earlier when US Garage was king and laid the foundation for the UKG sound. 4 Liberty was a brand new label that was mostly releasing american stuff. Over the first years of the label, music from Smack Music, Brothers Of Peace, Farley Jackmaster Funk, DJ Camacho and Kerri Chandler was released before the UK Garage sound exploded. Matter of fact Mr. Chandler had 3 12″ out on 4 Liberty in the very early beginning stage of the label.
Rumor has is that the label really wanted to kick start their rep with some releases from the legendary New-Jersey producer. A meeting was arranged and a deal was made. Then the owner proposed "to play" the deal over a poker game. Kerri Chandler accepted promptly and ended up losing. So he had to gave away material for 3 releases. Funny and fairly enough, all of these 3 projects are just simply amazing.
He could have thrown in some fast produced or average unreleased stuff, but instead we were treated with that vintage quality classic Kerri Chandler sound. The first release out of the three was a remix for Free Love Foundation "The Sound". An amazing take on a rather very ordinary track, Kerri Chandler simply creates pure magic here. A perfect balance of raw House and mellow soulful sweetness. This flows just beautifully with those nice and smooth male vocal ad libs. "The Sound" has been haunting me since it was first released 20 years ago. This is one of my favorite Kerri Chandler production. That's the real spirit of US Garage around 1993-1994 right there!
---
Track taken from The Rawsoul's new "RawHouseSupreme Show". Listen below and subscribe to his channel on mixcloud!