The world of rare Japanese Funk & Soul is a vast and expensive one to visit. The kind of realm that can be dangerous for your record budget once you start falling deep into. But there is something absolutely irresistible about the pop music that was coming out of Japan in the late 70's and early 80's.
Filed under "Experimental Synth-Pop" is probably where you'd find this gem by Hiroshi Sato sorted at your local record store. Except you won't. It's one of those rare treasures that won't appear magically in a dollar bin near you. You'll have to pay a couple hundred dollars for an original of this one but thankfully it has been reissued a few years ago and will probably come around again. Back to the record in question: "Orient" (released in 1979) was Sato's third album in a very productive period that saw him release 8 albums in 12 years (from '76 to '88).
One of Japan's most important keyboardist in his era, he continued making music until he passed away in 2012. He was also an important studio keyboardist, composer, arranger, producer, and sound engineer. I highly recommend a trip on his very charming old-school looking website (hiroshi-sato.com) that is full of little treasures and pictures of him.
Sato's daughter, Chirudo had this to say in the memory of her father: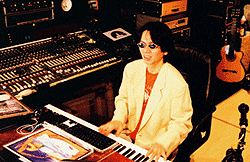 "His life's work was pouring his everything enthusiastically into music. He also loved his studio in Yokohama, putting in speakers and installing the equipment and synthesizers one by one. He fell down and breathed his last breath in that studio while he was making music. He was sixty-five years old, and an acute dissecting aneurysm of the aorta was the cause of his death. However, this is the least important aspect of his passing. Despite an instant death, I believe he knew the time had come, because he was sitting cross-legged with his hands joined together, as if practicing Zen meditation. He was alone, but not lonely, because whenever he was surrounded by music he was happy, as if he were an innocent child. He lived life as a musician and lived as a musician with his whole life."
On a side note, I thought of sharing this record because I included one of his tracks on my Été d'amour mix for NY's Standard Hotel. Following my research on Sato's career he was also part of the group called "Seaside Lovers" also included on my mix. I definitely plan to dig into all of his other records and projects and I suggest you do the same!
And here is the track from the equally amazing Seaside Lovers album