First, and foremost, what were you involved with before you ever started Do Right?
I've been DJing since the early 90s. Back then I kept my day job so it was a moonlighting sort of thing. I co-founded the Movement Collective in 1998 which is when things really got rolling, and have been DJing internationally since 2000. In recent years I've slowed down on the touring tip a bit so I can focus on the label. Back in early 2000s I was also very active as a promoter, bringing live acts like Sharon Jones & The Dap Kings to Toronto.
What made you pursue the goal of starting your own record label, and when did you realize it was going to be a reality?
My DJing and promoting activities made me see an opportunity in the funk revival scene that was happening at the time. Those were the days before the digital & streaming revolution and there was a huge market for CD compilations. So I teamed up with Keb Darge on the very first record Do Right released which was "Keb Darge: Funk for the 21st Century" and a real documentation of the teeming funk scene of the day. My goal was to seek out truly original and visionary artists and push them to the masses.
The first releases on Do Right were mainly funk compilations. Who were some of the first artists that registered on your radar that you wanted to get behind? We're there some that got away that you never had the chance to work with?
The first album I signed was Circle Research, who at the time were making hiphop that was pretty raw. I saw their potential back then and I'm really digging what they're doing right now even though they're no longer on the label. I would have loved to sign badbadnotgood before they took off, but their manager never got back to me.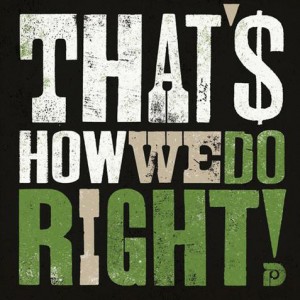 You've had Gilles Peterson in Toronto numerous times for various gigs. What made him the definitive choice for the headliner of your ten year anniversary party? Also, what kind of relationship has he had with Do Right over the years?
I've known Gilles since 1996, when i was clubbing in London UK at the Blue Note in Hoxton, Bar Rumba to name a couple. He's one of the few people who's reached the forefront of the scene and managed to stay there. He's the most widely-respected spokesperson out there for our kind of music. Gilles has been a supporter of many Do Right artists like Souljazz Orchestra, Elizabeth Shepherd, Maylee Todd and others — he doesn't always play our music but when he does, it usually translates into sales!
What have been the most memorable moments for you since you've been in the record industry?
It's memorable every time I hear a Do Right artist get played on the radio or in the clubs. Having been part of the process from the musicians recording in the studio, to the designer presenting graphics, to the publicist organizing the mailouts, hearing people appreciate the music makes the sweat and tears of being behind the scenes worthwhile.
What are your thoughts on the industry today as compared to when you started ten years ago?
To be honest, I consider myself to be a late bloomer because I missed the salad days for recorded music sales. The digital revolution had already started when I launched Do Right, and since then the pace of change just seems to get faster and faster. Selling music as a commodity is no longer a viable business model, but it's still a worthwhile challenge to discover new artists and try to do my part to help them succeed.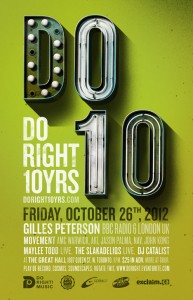 What's your take on the whole "digital versus vinyl" debate, and will Do Right continue to press vinyl in the future?
I don't really see it as a debate — great music is great music regardless of how you're listening to it. For example, it's a moot point if you're listening to a great piece of vinyl on a worn-out needle through iPhone headphones. But I do value the tactile experience and the care that goes into things like LP cover art, inserts etc. and that's why Do Right puts so much emphasis on those parts of the package. We will be selective about what we release on vinyl but yes, we'll continue to press on.
I can only begin to imagine the emotional roller coaster ride of running your own label. I always reflect on the early days of Blue Note and what Alfred Lion, Max Margulis and Frances Wolff had to deal with; pushing music they believed in, and not conforming to popular tastes of the time. I've always interpreted the same sensibilities when looking at the Do Right catalog. Can you enlighten us on how demanding this can be in the current incarnation of the music industry?
We always have this joke, that we are pushing the so-called "Future Rare Groove", meaning people will one-day 'get' our music, just not now. But the goal for each release has always been receiving critical acclaim and being commercially successful AKA winning the lottery.
Now that you've got ten years under your belt, where do you see the direction of Do Right in the next ten years?
I would like to keep the label going as long as I can. It's impossible to predict where we'll be in 10 years because the music industry is changing so rapidly. But I do know that I'll be involved in music and pushing the sounds that matter to me in one way or another.
Anything else you would like to add? Any last words?
I would just encourage anyone reading this to do what you're passionate about doing. If you're an artist, keep making your music — contrary to popular belief, the music is what matters most. If you make music that you believe in and work hard to get it out there, the label, manager, agent and the rest of it will follow. In the meantime, use technology and social media to create and develop relationships with your fans. Do it yourself until you're successful enough not to have the time to put into everything besides creating and performing your music.
---
Linkage:
Do Right Ten Year Compilation:
http://music.dorightmusic.com/album/do-right-10ans
John Kong's 2012 Summer Mix:
http://www.mixcloud.com/johnkong/summer-in-the-city-mix/