Move Closer To The Swing, Melody, And Vibe Of Steve Spacek
UK singer/producer Steve Spacek should need no introduction!
With a stellar discography stretching back eighteen years, his work continues to excite and surprise in equal measures. Transcending genre and style, he instead focuses more on swing, melody, vibe, and atmosphere. From his forward-thinking music in the early 2000's with the band Spacek onto his solo work with Sound In Color, as well as collaborations with the late great J.Dilla, projects with dBridge's Exit Records, Katalyst, and Mark Pritchard, his fearless approach to creation has always been progressive and highly original.
With the recent release of his new EP "Mov Closr" and his forthcoming album with Katalyst as Space Invadas, we chatted with Steve about his latest projects, Eglo Records, his creative process, music innovation, and iPhone apps.
Let's start from the early days. How did you first get into making music, what was your first exposure to music, and who were some of your primary influences?
Steve Spacek: I grew up in church which was a very musical place – on a gospel tip too! Anyway, I recall being aware of brother Gordon's electro-acoustic and Vox amp combo. Just watching him strum and hearing the drummer lock in on a groove somehow made sense back then. I went home, found a piece of wood shaped like a fish… and stretched an elastic band around it so I could have a little strum for myself! After my mum noticed, I got a guitar for Christmas and more or less every year afterwards! In the meantime my mum had this amazing vinyl comp with a bunch of soul dons up in there! Rolls Royce, Sister Sledge, Pointer Sisters, Gladys Knight and the Pips, George Clinton, Marvin Gaye, James Brown – mans was exposed to mega weight hitters from the start!
Moving up to date, can you tell me a bit about your new EP "Mov Clsr". What was the creative process?
The "Mov Closr" EP is the third instalment of a bunch of releases via Alex Nut's label Eglo Records. If I'm honest, there was a period where it felt like a bit of a struggle getting my music out! Nut has always supported me though, and backed that up by giving me a direct platform for my fans and a like-minded crew. Creatively, I suppose the music is a direct result of my explorations in iOS music making and production. The ease of use and interface that allows me to channel riddim all day and night! Love it. As for process it was like most times, as in locking in on a groove.
That could be in the rhythm section, melody, or both, but everything kicks in once the initial vibe is moving in a nice way! I can usually hear chord and/or melody ideas either in my head or just bouncing off harmonics. I'll usually try to play with those whilst trying to incorporate them into the track. Can work from a sample angle or even a vibed up synth patch. African and Latin riddims too, I always draw something deep from there! Ultimately, it's about me feeling my way through, progressing provided it feels good. If for a moment I feel like I'm losing the vibe, I go back and retrace my steps, to that point where everything was rolling right if that makes sense.
Going way back to your Spacek days – innovation and the utilization of the latest technology has always played a big part in how you make music. You've been using iPhone and iPad apps for a while now. What other applications do you use?
I still use Logic's DAW to bring it all together. It's what I've used to mix with for years now- going back to early Spacek days. I use to start and create a lot of my past projects within Logic before the advent of the multi-touch screen! I also picked up one of those OP1 synth workstations by this outfit named Teenage Engineering. Way too much innovation to do this synth justice! But yeah on some crazy virtual 4track tape that allows backward as well as forwards recording and all augmented by the waveyist graphics to bless an OLED display!
You've been living in Australia for some time now, but your music while clearly globally influenced still feels quintessentially London. Has your new home had much impact on your music and sound?
I suppose you could apply this to anyone from wherever the flip but ultimately 'once a Londoner always a Londoner'! Whenever I'm creating music, I'm always referencing Plastic People! To anyone that knows or ever had the pleasure to attend, arguably one of the best clubs that ever was! A little spot in a basement over in East London with a great sound system! Back when it was in full swing, myself and crew would always be making music with that famous Function One rig in mind! We'd go down and test out tracks via our ISTYKZ Studio club sessions. Some great memories!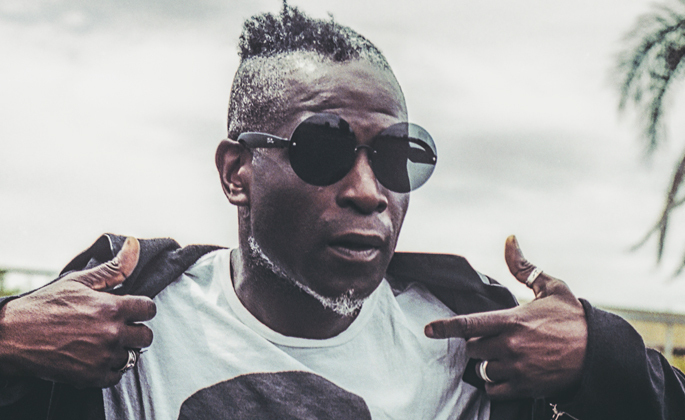 Your music while sounding current has always felt timeless, seeming like you never get caught up in passing fads or 'of the moment' musical niches. Is that a conscious decision on your part or is that just the way it comes out?
I have too much of my own music looping around in my head to be caught up in fads! Although, I'm not afraid to step into something if I get a vibe. But once I'm in, I will always do it my way… sound like some corny lyrics init? [laughs] I'm glad that I do me though. A lot of other musicians are looking to keep things familiar for their fans, and I get it now. Peeps do love familiarity within music. The path I've chosen is not as easy to make a success of but I can say hand on heart that it is way more satisfying.
You recently flipped Tenor Saw's 'Ring The Alarm' and New Order's 'Blue Monday'. What made you choose these classic tracks and what inspired you to do your take on these legendary songs?
By chance really. Sometimes I'll be working on a groove and in the back of my mind, I can hear the hook, melody or lyrics from another song, from another artist. I use to always ignore it save for the vibe I could take from it. I was never really too much of covers kinda guy. Like I always say, I have too much to work within my head already! Plus for some reason always felt a bit cheesy covering someone else's music. Now in my old age, it suddenly makes sense! The 'Ring di Alarm' idea was so strong though, I had to jump on it. Glad I did, seeing as it was so well received!
I can't remember how or why I did the 'Blue Monday' cover, other than the fact that I've always loved that track. At that time I'd just finished a version of The Isley Brothers' 'Footsteps In The Dark' too! Yeah not sure why Blue Monday.
Both these tracks were released on your SPA Records imprint. Other than your music, do you have plans to share music created by other artists with the label?
The idea for SPA is to be able to put my own music out and not have to wait and rely on others to do so. But definitely, if I'm feeling something from someone else and we can make it happen then why not? I have no real requirements other than that the music has to move me in some way or form. Can't say much other than that!
Since its inception in 2009, Eglo Records has been known as a future-facing and innovative imprint, so it seems like an obvious fit. What led you to link up with the label?
I had been speaking to Alex Nut about looking to release some new music and at that time he happened to be doing A&R for Ninja Tune. He helped me connect with them and I ended up releasing my last solo record – "Modern Streets" via. Ninja, it kinda made sense to put something out via Alex's label too.
Your music has touched on many styles. Is there anything musically that you'd like to do that's very different from what you've already done?
I would like to say soundtrack music but it's a little ironic seeing as I kind of deal with the production process like it's a soundtrack anyway! I suppose music that is considered timeless or slightly leaning towards the future is always gonna have that soundtrack vibe about it!
Also Jazz… but I'm talking what I believe to be the true essence, not that music they call Jazz that is a frozen pastiche of a golden era! I'm talking a fresher free form type of groove. I've dabbled but there are not enough hours in a day to get across all the things I want to do! At some point I'll have to address it though…
You always seem to have new projects on the go. What else do you have in store for 2018?
Right now I have another release under the name of "Space Invadas". This one is the second album from a collab with Katalyst who is a great Soul and Hip-Hop producer out of Australia. The record is called "Wild World", and you can get it on April 18th via Remote Control Records, Invadas Records, and on Bandcamp. It's a slightly future take on Motown if you like.
Has some talented guests too… Guilty Simpson, Remi, and Natalie Slade! Next up is another LP via Eglo. This one is a bunch of tracks that carry on from SpaceShift. More or less what original Spacek fans would know me for which is that Future Soul sound, featuring Oddisee and Natalie Slade as guests! The production on it is very minimal – just like back in the day – whilst being deep and spacious.
Original fans will appreciate the vibe on this one. The working title is "Natural Scifi". Last off I'm looking to be able to amp it up with my little imprint – SPA. The idea is to put music out as regular and as randomly as is possible across a bunch of genres and styles. We will be releasing a newsletter with heads-up to all those who have supported my label via Bandcamp. The idea is to hip the supporters to any possible newness, giving them early access plus exclusive free downloads and percs directly to their inboxes!
Lastly, what is your idea of a perfect day?
Down at Bondi Beach – which is a couple minutes stroll to the end of my street – with the family, catching waves onto the sand until we are tired and ready for a good feed! Meantime the sun is shining bright and everyone we meet is smiling whilst new chunes are looping around in my head. Fat spliff between my fingers, the crickets and cicadas on percussion!
"Mov Closr" released March 16, 2018 on Eglo Records
---
Follow Steve Spacek: