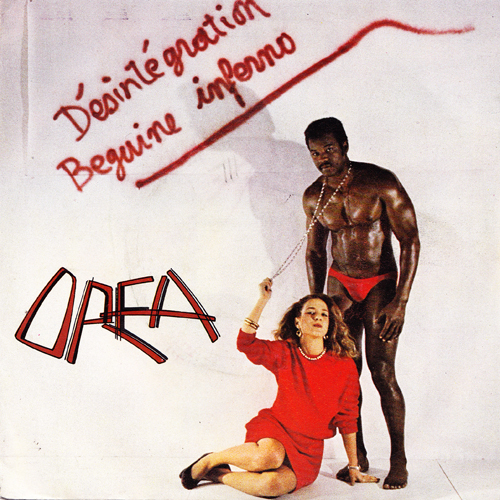 Forgotten Treasure: O.R.E.A "Biguine Inferno / Désintégration" (1982)
Needless to say, Digital Zandoli on Parisian label Heavenly Sweetness is an early contender for compilation of the year.
It's a mostly danceable affair put together by the great people behind Digger's Digest, bringing forward tracks ranging from disco, boogie and zouk from the West Indies recorded in the early 80's. One cut that truly stands out is the amazing Biguine Inferno by O.R.E.A, written and produced by the Martinique-born Erick Orville while in art school in Paris.
Featuring none other than Wally Badarou on keyboards, it's an epic synthesizer and drum influenced workout that didn't fair well at the time for sexual and political reasons. From the controversial artwork to the lyrics themselves, you understand why this rare caribbean funk hybrid was quickly marginalized, deemed too subversive for mainstream radio.
This private press released 7'' is so great that Mambo & Guts decided to include the B side on their latest and excellent fourth volume of the Beach Diggin' series. The even funkier Désintegration goes to show you where crucial icons such as Grace Jones or Serge Gainsbourg got their sound on albums like Warm Leatherette (1980) and the often overlooked You're Under Arrest (1987). Courtesy of the synth wizard, Wally Badarou. "The Prophet" was truly crafting his unique art on both these songs.
Once again, the Heavenly Sweetness team are making quite a statement in a very high standard reissue game these days.
---
Credits
Bass – Michel Allibo
Drum – Claude Vamur
Guitar – Erick Orville
Keyboards – Wally Badarou
Mixed By – Gabriel Nahas
Vocals – Julien Constance
Written-By – Orville Erick