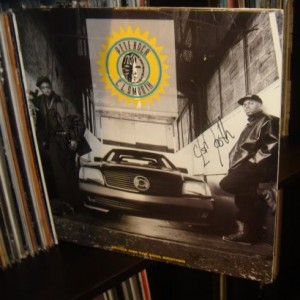 Hands down this record is one of the top 5 most influencial records in my life. As far as hip-hop LP's goes in my opinion it's right up there as one of the best and most forward thinking records ever. The fact that it's turning 20 years old doesn't make any of us younger but most importantly it's absolutely mind blowing how well this record has aged. Pete's production and CL's verses on "Mecca and Soul Brother" are just suspended in time. Timeless.
Before we talk about the specs of this classic LP let me tell you why this record meant so much to me. Well, quite simply it was the first one that touched me in such a personal level. Tribe's "Low End" showed me the gold standard when it came to the quality and depth that hip-hop can have but ATCQ's were more about the "having a good time" vibe, granted in a very intelligent way, but still it was playful most of the time.
Pete and CL were different to me. They had a different vibe than the whole Native Tongues crew and were never big when it came to "party" records, in fact their only club classic "They Reminisce Over You" is pretty much the saddest song they ever did but just ended up gaining that status because frankly it's just one of the most beautiful hip-hop tracks ever made. No the main reason that record touched me so much is because it was so introspective, both in lyrical content and production. In the same way someone like Curtis Mayfield could make a record like "There's No Place Today Like America", Mecca paints a vivid of the early 90's life in NY, didn't seem to embellish or dramatize that reality either. Something that was starting to be very popular in the early 90's with the whole Gangster rap movement. My two favorite tracks of the record have always been "For Pete's Sake" and "Ghettos Of The Mind" both very conscious and introspective, the same feeling I would later get from Nas' "Illmatic". Just perfect headphone music.
Another thing that most people remember and love about this record is all the intros / outros used on the record, all the samples Pete dug out and probably would have used if the label would have been ok with releasing a double LP. You can just tell that the duo really went all out on Mecca, a record that clocks in as one of the longest (78 mins) hip-hop classics – in comparaison, "Low End" is just 48 minutes long.
Definitely one of the top records of the 90's (of any genre), one of the top hip-hop records (of all-time) and one that will continue to age as well as a classic Coltrane or Miles record.
---
[toggle_box title="Videos" width="Width of toggle box"]
[/toggle_box]
[toggle_box title="Samples Used" width="Width of toggle box"]
A few of the key samples as hand picked by EGOTRIP
1. "Return of the Mecca"
Year: 1992
Breakdown: Not only is this the first head-nodder off the LP, but Pete flipped this popular drum break unlike anyone else at the time, overlaying the break over another set of drums when most were simply using it on its own. Everyone from East to West, N.W.A to A Tribe Called Quest, touched this break. If you listen closely Pete also flipped this break for several other tracks on the album.
Sample Source: Mountain – "Long Red (Live Version)"
2. "Can't Front On Me"
Year: 1992
Breakdown: Which came first, the chicken or the egg? Who flipped samples from Hair first in hip-hop? Not sure, but I can tell you this, though. The Chocolate Boy Wonder incorporated this joint into his sound over a year before Da Beatminerz used it for Enta Tha Stage. Being an understudy of Marley Marl, Pete obviously always enjoyed cutting records from the Juice Crew, using a Biz Markie vocal scratch throughout the track. Another sample that's slipped in the mix is the "Impeach The President" beat, a/k/a the "Queensbridge" break to those of us Upstate. Whatever way you slice the sample this track hits hard as a mutha.
Sample Source: Alyn Ainsworth – "Where Do I Go?"
3. "The Basement"
Year: 1992
Breakdown: Before everyone and their mother's mother knew about Sister Nancy's "Bam Bam," there were the few DJ's (including myself) that would run this in their set – slid in between songs like Snow's "Lonely Monday Morning" and Mad Cobra's "Flex." This was one of those tracks with bass so heavy it would knock your rear view mirror loose. The sample also appeared on Main Source's "Just Hangin' Out," produced by the Large Professor. A little more recently it was reprised and gained wider popularity via Guerilla Black and Beenie Man's "Compton." Whether left alone, or sampled, the track's longevity is evident by the fact that it still gets a party jumpin'.
Sample Source: Sister Nancy – "Bam Bam"
4. "Skinz"
Year: 1992
Breakdown: The catchy-ass horn and bassline are an instant draw for any fan of hip-hop circa '92. This funky production is perfectly paired with the interlocking vocals of C.L., Grand Puba, and Pete Rock. One of the most frequent sampled songs in hip-hop, James Brown's "Funky President," sets the tone, in case you were wondering.
Sample Source: The Coasters – "Down Home Girl"
5. "Wig Out"
Year: 1992
Breakdown: The opening bars of this record feature backup vocals which foreshadow the chorus. Once the bass booms, then the cleanest, hardest hitting drum tracks you will ever hear drops. More on the uptempo tip, PR magnificently illustrates that in order to be a great producer, less is more, and that there are limits to over-layering samples. Most will be fooled to find out that only three songs were chopped up for this track even though it sounds like so much more, it's that in-your-face a breakbeat.
Sample Source: Johnny Lytle – "Jungle Child"
6. "Straighten It Out"
Year: 1992
Breakdown: I'm going to make an educated guess and say that CL Smooth most likely wrote the lyrics to this song to the exact beat after getting it from Pete Rock. If not, then they did a great job of matching his lyrical content to this original concept. The production value is similar to other songs on the record in the sense that Chocolate Boy Wonder had the knack for finding those perfect loops that needed little work. This allowed him to bless the SP-12 with a load of other snippets that would ultimately be the final touch on some of these jawns.
Sample Source: Ernie Hines – "Our Generation"
7. "Lots Of Lovin'"
Year: 1992
Breakdown: I bet when the Ohio Players finished recording recording "What's Going On," and they told the engineer to fade it out – they never predicted that a small piece of that song, especially the very end of the record, would wind up making such an impact 20 years later. "Lots of Lovin'" changed the whole feeling of the Mecca album and exemplified Pete and C.L.'s versatility. It's one of the few hard hitting hip-hop tracks with heavy RnB influence from the early '90s that everyone had an appreciation for. Back in those days artists released a 12″ with a raw cut on one side and a smooth joint on the flipside, and didn't get heckled for being soft. What happened?!?!
Sample Source: Ohio Players – "What's Going On"
8. "It's Like That"
Year: 1992
Breakdown: The second this track starts you know it's going to be a heat rock. Pete's signature sound of layered loops blend with the call-and-response adlibs he's known for. He flexes on the Technics transforming a one liner from Lord Finesse and DJ Mike Smooth's "Strictly for the Ladies" into one of the best hooks on the album.
Sample Source: Mongoose – "Elephant's Memory"
9. "For Pete's Sake
Year: 1992
Breakdown: This was always one of my favorite non-single tracks from the album. There were at least 6 other records that were mined to chisel this gem, some include EPMD's "Your a Customer," Big Daddy Kane's "Just Rhyming With Biz," and even the Talking Heads' "Once in a Lifetime." I find it ironic because this was a "Once in a Lifetime" arrangement that would never have been possible, had it not been for fate stepping in and Pete deciding to use certain records that were laying around the studio in plain view.
Sample Source: Freddie McCoy – "Gimme Some"
10. "They Reminisce Over You (T.R.O.Y.)"
Year: 1992
Breakdown: This has to be one of the greatest hip-hop sample flips ever. Even Tom Scott, who personally co-signed the use of the sample, told Pete that he did a great job with it. When I first heard those horns jump out of nowhere, it literally brought a tear to my eyes. And like with all powerful music, I can still remember where I was and the exact time of day when I first heard it. It's a song that represents on so many levels a milestone not just for Pete and C.L. but anyone who's ever heard it.
Sample Source: Tom Scott & the California Dreamers – "Today"
[/toggle_box]
[toggle_box title="Tracklist" width="Width of toggle box"]
1
Return Of The Mecca
5:44
2
For Pete's Sake
5:54
3
Ghettos Of The Mind
5:03
4
Lots Of Lovin
5:09
5
Act Like You Know
4:03
6
Straighten It Out
4:13
7
Soul Brother #1
4:30
8
Wig Out
4:07
9
Anger In The Nation
5:33
10
They Reminisce Over You (T.R.O.Y.)
4:46
11
On And On
5:12
12
It's Like That
3:57
13
Can't Front On Me
4:16
14
The Basement
5:26
15
If It Ain't Rough, It Ain't Right
5:05
16
Skinz
4:15
[/toggle_box]