Quartets are a team, they form a unit and perform as one; but the trio is entirely different. Three individual forces collide and hope to attain balance and achieve a maelstrom of virtuosity, creating the perfect musical storm. Violin,piano,cello all united as one.Trio compositions are also inclined to allow some personal performance space and the repertoire is only truly served by expert teams.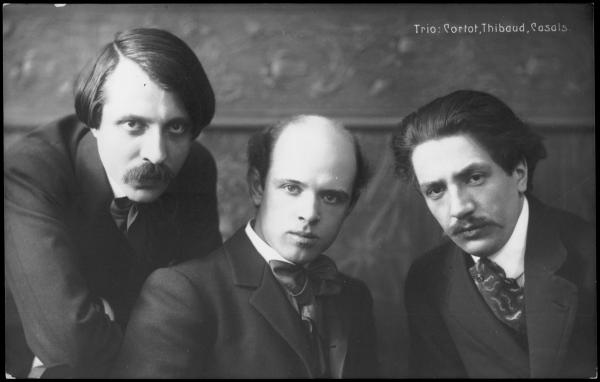 The Cortot/Thibaud/Casals trio is the embodiment of this notion of concentrated talent. Indeed, the three eminent musicians are pioneers in their respective styles and became teachers to many of the golden eras top prospects. Demi-gods in their own right, they trusted each other to elevate their individual brilliance and perform harmoniously. The wildly emotional Cortot matched his passionate strokes to Thibaud's unmistakable class and Casals (a future conductor) supported the entire enterprise and allowed the cello parts to shine fully.
This breathtaking 1927 performance of Mendelsohn demonstrates how this dream lineup set the bar very high. Don't forget that the trio's rare recorded performances served as models for the following groups.
The Istomin/Rose/Stern trio is an example of knowing one's role and serves as reference recordings for many pieces. Violinist Isaac Stern eclipsed his colleagues in terms of individual success. Where Leonard Rose and Eugene Istomin recorded some individual performances, they we're truly at ease as accompanists throughout their career, whereas Stern raised to stardom as a virtuoso. However, Stern stayed humble in the group as he had previously been outshone himself in his brief stint with another trio featuring seminal pianist Vladimir Horowitz and world famous cellist Mirostlav Rostropovich. Where that trio could not contain its starpower, the Istomin/Rose/Stern trio musicians, like a finely aligned regiment, held rank and humbly produced greatness together. This filmed performance showcases the trio's restraint and respect for the printed notes.
(Also highly recommended, the video of this same performance can be found here)
Finally, rounding out this trio of trios is the astounding Rubinstein/Heifetz/Piatigorsky trio. Although,Heifetz & Piatigorsky went on to record numerous trio pieces with William Primrose, for a brief moment in time two giants of classical music unified their strengths. Pianist Arthur Rubinstein's showmanship truly completed violinist Jascha Heifetz's dazzling yet highly contained technical prowess and Piatigorsky played the third fiddle role to a tee.
We have seen that the Cortot/Thibaud/Casals trio represent a meeting at the summit of excellence, while Istomin/Stern/Rose are the definitive textbook trio and Rubinstein/Heifetz/Piatigorsky are a beautiful compromise. To me, trio recordings represent an exciting listening experience, because the best ones (much like the last video) give off a feeling of the trio performing in one's living room.
Here is a top 3 vinyl recommendation from these trios.