The Essentials of Omar: An Interview & Tribute Mix
My first introduction to Omar was around the mid 90s, which were also my early teens, at a time when I was still scratching the surface of what would eventually become my musical taste.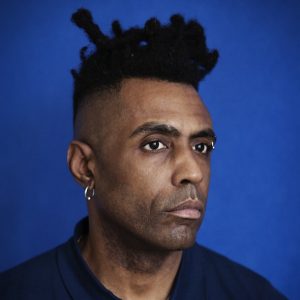 As the years went by, I realized that with each new album, his name would pop up whenever I would have conversations about who my favourite artists were.
It would be some ten years later that I would get a chance to meet him, under peculiar circumstances. I was at Heathrow airport, flying back to Belgrade from a DJ gig in London. Horrible weather conditions were threatening to postpone my flight as various companies were already starting to do so. I began to stress over the prospect of not flying home that day, but also over the possibility of not going to the Omar concert that was to take place in Belgrade that night. As I was looking at the big airport screen waiting for news to what would be the outcome, I glanced over to see a familiar figure standing to my right, doing the same thing. It turned out to be none other than Mr. Lye-Fook. After a brief chat, we received the news that the flight would be delayed but that we would still make it to Belgrade by nightfall. He sought me out after we landed to ask me if there was a particular song I would like them to play that night. I asked for "Essensual" which I was sure wasn't in the regular repertoire. "Damn, we haven't done that one in a while, we won't have time to do a soundcheck, I don't think we can pull it off tonight", he replied. Two hours later Omar and the band took the stage and the first song they played was yes, "Essensual".
And that's just it, Omar isn't your typical artist. The King of UK Soul, a universally revered vocalist and yet, almost 30 years in, he seems grounded, detached from the hype, unphased by the adoration and the accolades. He appears perfectly happy with where he is, in his own lane, with his own style, his own sound. That is, in the end, probably the foundation to his longevity.
A few months ago I caught up with Omar to talk about his new album, family, music philosophy and life in general. Below you'll also find a Tribute Mix that I've been meaning to do for our Tribute Series, and naturally this seemed like a perfect opportunity…
Congrats on the latest LP! You've done it again, needless to say…
Thank you! This one was a bit easier to record than some of my previous work, as we did at my brother's home studio.
You're someone that really doesn't need much introduction, but I have to ask you for a bit of background info, for the listeners/readers who are not that familiar with your history. A lot of artists get the music bug from their parents, and you've sort of had a similar journey correct?
That's right. My father was a drummer in the 60s and 70s, who played with the likes of Horace Andy and Bob & Marcia, so I grew up not only listening to specific sounds but actually got to witness it firsthand. My first instrument were the drums which I started playing when I was around 4 years old. My interests grew from there as I went on to study classical percussion, guitar, piano and eventually playing in youth orchestras and brass bands.
"There's Nothing Like This" – your first album, came out in 1990. Does it feel that long ago?
Yeah, it does actually! Eight albums deep now, its been a while!
Did you think that it would have the impact it did and that it would ultimately become a crossover, without a shadow of a doubt, classic?
Funnily enough I did have an inkling. When I recorded the demo, I made a tape. I played it over and over again, but didn't get bored of it. I then took it to my dad's record label, and their reaction was similar.
Artists tend to get bored of their most famous track, but you've embraced it. You've covered it on your previous album "The Man", a more acoustic version of it, so it must still be special for you.
I recorded my first ever single in the mid 80s, and ended up hating it so much that I promised myself I would only make the music that I like, because I would have to perform it for the rest of my life. I told myself "You better like it or you're gonna try and kill yourself after a while!" [Laughs] That's the main reason why I try to make music which feels, you know, timeless.
You've worked with so many legendary artists from the old to the new generation, is there anyone left on your wish list?
Well it's certainly getting smaller, but Bill Withers is the first name that comes to mind, and I'm sad I didn't get a chance to work with Bobby Womack.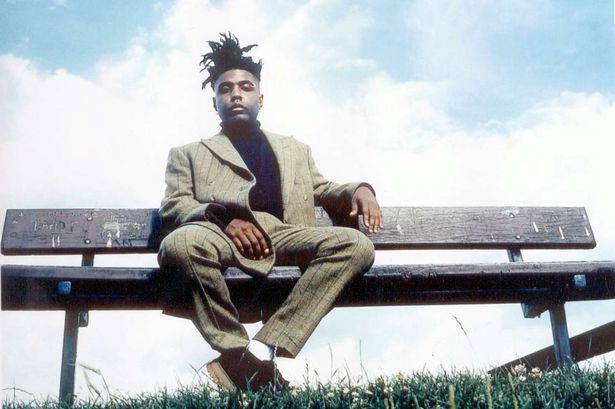 "When I grow up I wanna be like Omar" – a quote from the great Stevie Wonder.
Typical Stevie, he's got a great sense of humour! It was on a French TV show where we sang together. He's a bit of a joker, so when they asked him how we met, he said we were racing cars! [Laughs]
Speaking of legendary musicians, one that you've worked with most recently on the new album, Leon Ware passed away earlier this year. I find it quite fitting that you were probably the last person that he worked with.
I was lucky enough to speak to him a couple of months before he passed, he was aware of what was happening, what was coming… he was a strong character. And even though I knew it was coming, it still came as a shock, especially as my brother passed away two years ago from cancer. I feel very blessed that we were able to work together on this album. He was so gracious to give me the masters for the classic "Rocking You Eternally" which we used for "Game My Heart". My brother cut it up, put a beat on it, I wrote the lyrics. I then asked Leon if he would add his particular style to it which he did, and of course, it fit perfectly. What a loss, but a what a legacy he's left, I would hope he is up there smiling with what he's done.
You are an artist with a level of consistency so high that it's become the norm to get a good album from you. Take me through your process of writing, is there a specific formula?
The formula for me is quite simple really. I go back to basics, back to the jazz, back to the soul, latin, reggae, funk…back to classical arrangements. The key, or the idea is for you to have a song that will sound and feel the same ten, twenty or thirty years from now. My goal is for the listener to get that same emotion he would get listening to Marvin, Stevie or Donny. I want to capture the same feeling. I know it sounds rather simplistic, but that's pretty much it, it's not rocket science! [Laughs]
Well you certainly make it look that way, or otherwise everyone would be doing it! Your latest album is called "Love in Beats" – you've always dabbled in the beat scene, so it was only a matter of time before you would make a more beat-oriented album. Do you have any favourite beat makers that you like, listen to, admire?
Of the new generation, not really. Dilla was the last one that I really listened to. I was fortunate enough to meet him before he passed away. As a matter of fact, we managed to do a couple of tracks, I played bass for him, but I'm not sure if he actually used it. I've been checking out Anderson .Paak, he's been able to come up with something different with his music, it was astonishing to see what a skilled drummer he is.
On the song "Ordinary Day", from the album "The Man", you talk about the importance of family, specifically your children, and on the new one, you have your daughters featuring. Are they moving in the direction of pursing music or was this just for fun?
My girls (twins) are nine now, they're playing keys, drums and singing! I never sounded like that at their age! Their mother is a dance teacher so they have that performance element anyway. I'm starting to see the seeds of something special. When the girls start singing, we instantly start welling up! But I have to be the responsible parent and tell them they need to be realistic, get their education, get ready for a proper job but if they're lucky enough, have a career in the music industry.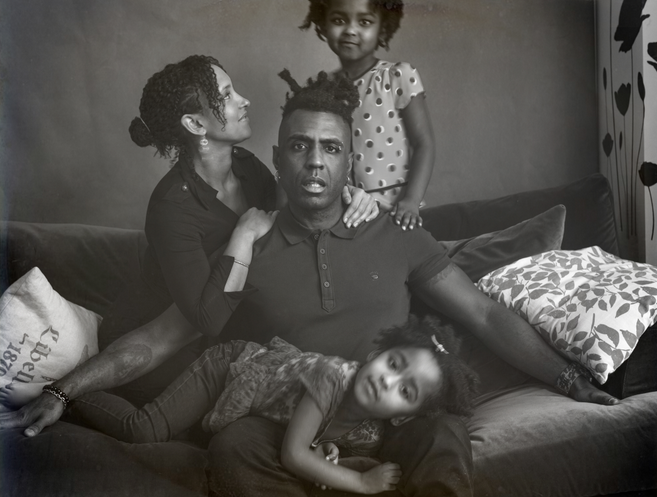 Basically have a plan B?
Exactly, I was always taught to have a plan B. When I was 16, I was offered a record deal and a chance to go and work in the US, but didn't accept it because I decided I wanted to stay in school for another two years and finish. I was aware that this music thing doesn't necessarily work out, get a proper education so as to be prepared for whatever outcome.
I mentioned "Ordinary Day" which has a Brazilian feel to it. What I've always loved about your music is that unlike a lot of soul singers and musicians, you've embraced Brazilian and latin music as a whole, so much so that it's become a part of the overall Omar sound. Where did the love of Brazilian and latin music come from?
Yeah, I love all styles of latin music. It had to have been from my grandmother who was born in Cuba. The b-lines, the rhythms…plus all these other styles of music that I mentioned, it's all African music at end of the day.
Eight albums in, can you pick a favourite?
They're all my babies, I can't pick a favourite! I love them all, they're all varied and fit a certain time, a time period in my life…
I know you're loving the whole vinyl resurgence, there's one album of yours that hasn't made it onto wax yet and that's "Sing If You Want It". Ether, the label that released it is now defunct. Who holds the rights to the album, could a reissue be done at some point?
Tru Thoughts has the rights now, or at least they did. You should pressure them to do it, let me know what they say! [Laughs]
From the hairstyle to the music – you've never compromised and you've always stayed true to yourself, not falling into trends and what's hot at the moment. How hard is it to not comprise, not give in, especially in this day and age?
I've never really thought about it, I've been doing it so long, but I think it has a lot to do with the fact that I started before the internet. There are so many talented kids nowadays, I think if I was starting off now, I'd probably just get lost in the crowd.
I'm not really interested with what's hot at the moment, I've always stayed in my own little groove, my own little universe. Now that may be a selfish, arrogant thing to do but it's just the way I'm programmed, or otherwise I don't think I would be making the sort of music I want to be making.
The Music is My Sanctuary subslogan is Future Classics | Forgotten Treasures, so to finish it off, give me an old school record that's dear to you and that some people may not know, and a future classic, something more contemporary…
The Forgotten Treasure that comes straight to mind is a track by The Yellow Magic Orchestra, from their debut album (Yellow Magic Orchestra, 1978, Alfa).
Yellow Magic Orchestra – Simoon
And the Future Classic isn't that current, but it's one that has proven to be a classic already…
Shaun Escoffery – Days Like This (DJ Spinna Remix)
---
Follow Omar: