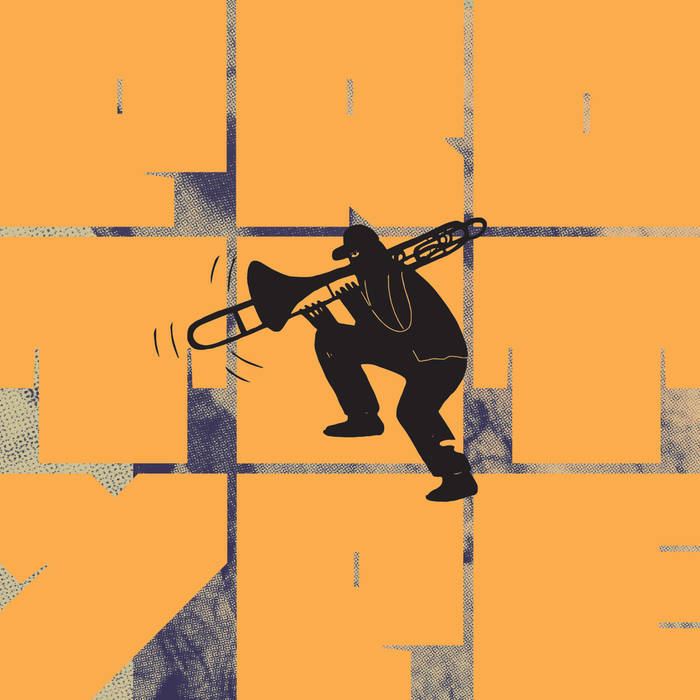 Exclusive Premiere: Reginald Chapman "We Shall Overcome" (Fresh Selects)
Multi-faceted instrumentalist, composer, and arranger Reginald Chapman joins the ranks of Fresh Selects on July 26th with the release of "Prototype".
This debut full-length album prominently features the Virginia native on bass trombone and calls upon a star-studded cast of supporting musicians that includes DJ Harrison (Stones Throw; Jack White), Corey Fonville (Christian Scott; Butcher Brown), Reggie Pace (Bon Iver), Scott Flynn (Odesza) and a host of others. Today he shares the second single entitled "We Shall Overcome", showcasing his skills as a musician while also creating a dialogue on the political and social climates of today.
In his own words Chapman describes why this particular anthem remains important today: "We Shall Overcome has been used as an anthem for activism since the early days of slavery and has persisted through the civil rights movement of the 1960s and continues to be relevant today. Although this song has been performed in a variety of contexts (from Joan Baez at the March on Washington to Bruce Springsteen following terrorist attacks in Norway in 2011), this song reminds me of Dr. Martin Luther King and the black struggle for civil rights in America. During the 1960s, civil rights movement protestors of all colours and creeds marched in solidarity in the face of racism and police brutality to the soundtrack of 'We Shall Overcome'.
As a kid, I vividly remember my father playing recorded MLK speeches, often set to early 1990s electronic music. He would later remind me not to ever forget that the freedoms I have as a black man in America today were paid for by earlier generations. King's 'We Shall Overcome' speech mixes lyrics from the original spiritual song to encourage its listeners that the fight for freedom – which may include jail, the loss of job, or even physical death – is worth the effort if it can ensure freedom from psychological death for future generations.
I first debuted my arrangement of this song for a Black History Month event at
The Krannert Center for Performing Arts at The University of Illinois Urbana-Champaign
. At the time, I had just started my doctoral degree in jazz studies and was getting into post-bop era John Coltrane. During my research, I came to learn that in 1963, Coltrane released his composition,
'Alabama'
, as a tribute to the four black girls who lost their lives in the white supremacist terror attack bombing of the 16th Street Baptist Church in Birmingham, Alabama. The tone of his improvisations mimicked that of King's eulogy for the victims of the bombing. Black American music was and is linked to the history of struggle, perseverance, and overcoming.
Like Coltrane's tribute, this rendition of 'We Shall Overcome' combines a cry for racial equality and personal freedoms of the Negro spiritual, with musical elements of John Coltrane's 1964 album, 'A Love Supreme'. It is presented in 3/4 time in a droning modal minor key with plenty of dissonances throughout the accompanying harmony. The immutable melody is kept intact as it rises above the rhythm section, the same way it has managed to sail through history unchanged. Drummer Corey Fonville (Christian Scott, Butcher Brown) channels Elvin Jones with an apocalyptic approach to rhythmic superimpositions, while Devonne Harris (Stones Throw), conjures the spirit of McCoy Tyner comping swirling fourths harmony patterns on the keys.
I have seen people who look like me murdered by the officials who have sworn to protect. I have watched these officials walk free. I have seen modern cities, still segregated. I have walked into uneasy spaces. I have been forced to become an expert at portraying an unarming social anatomy. However, being sympathetic to marginalized and terrorized communities, I want to emphasize the 'we' of humanity in the release of this single. I hope to subvert the 'us and them' rhetoric to help us realize that it is not flesh and bones that we are fighting against, but broken systems and ideas. We are all in this together. We have come a mighty long way and overcome much, yet there is still ground to cover. As echoed in the lyrics of the original song, 'deep in my heart I do believe' that 'the arch of the moral universe leans towards justice' and 'we shall overcome someday'."
"Prototype" releases July 26, 2018 on CD and all digital platforms via Fresh Selects
---
Follow:
Reginald Chapman
Fresh Selects