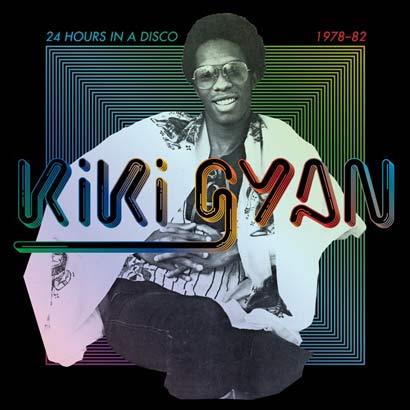 Forgotten Treasure: Kiki Gyan "24 Hours In A Disco" (1978-82)
Kiki Gyan (real name Kofi Kwarko Gyan) was a Ghanaian superstar who was celebrated as "Africa's answer to Stevie Wonder". Starting with piano at age five, he took music very seriously, to the point where it had caused him to quit school when he was twelve and join a huge band (in size and stature) only a few years later called Osibisa.
He was a very energetic and talented keyboardist (eventually ranked 8th best in the world), but since most of his band mates were decades older, they made him do most of the "roadie" work as well. This tired him out until he found a source of energy in New York: cocaine.
Upon realization that he wasn't making anywhere close to as much money as "the white guys" on his label and was even uncredited for some of his music, Kiki left the band in 1977 by teaming up with two musicians and bailing on a live show/recording in London. Shortly afterwards, he started a successful solo career making as much as 8,000 pounds per weekend in the studio and eventually got together with Kofi Ayivor in 1979 to record the European hit-single "24 Hours In A Disco". According to Ayivor, Kiki claimed he had to go back to Ghana to take care of his sick mother, but took the record to Nigeria instead and released a Kiki-only vocal version (which appears on this compilation) and kept all the money for himself.
While maintaining his advantageous position in an especially prosperous time for Nigeria, he got engaged to Yeni Anikulapo-Kuti (Fela Kuti's daughter) in 1979 but left her four years later amidst a physically and financially damaging drug addiction. His condition was so severe, it left him begging in the streets of Ghana while trying desperately to warn up-and-coming musicians of the dangers of cocaine. Seeing as Kiki became unable to practice what he preached, a long-time friend and musician, Hugh Masekela decided to help by sending him to a six-week rehab clinic in South Africa. Unfortunately, this recovery was only temporary as he could never abstain from his temptations. Kiki was found dead on a church toilet on the eve of his birthday in 2004, due to several drug-related health problems (including AIDS).
Kiki Gyan - Keep On Dancing
Kiki Gyan - Disco Train
24 Hours In A Disco is compilation by Soundway Records featuring Kiki's best work both as a solo artist and frontman of his various musical outfits. There are a lot of really amazing tracks here, but "Disco Train" is personally the most exciting and addictive track I have discovered in a long while. It's as deep, smooth and funky as one can get with a bass line that sounds like Earth, Wind & Fire at the top of their game (especially considering how the vibe is more American than anything else)! DJs should really file this one in the "last song of the night" category as party-goers are likely to hum this boogie anthem all the way home. Even the track itself goes on for far too long like a lingering melody that refuses to change! All this being said, "Keep On Dancing" is another recent favorite discovery of mine, almost beating "Disco Train" in preference with it's crazy-catchy, brightly enthusiastic horn section and stereotypical (yet always welcomed) party-themed lyrics. Final words: Kiki Gyan was clearly a legend who left us too soon, but gave the world some amazing music that will most likely survive many generations and this compilation is a testament to his greatness.