Marcel Vogel's Lumberjacks In Hell Continues Upwards
In eight years, DJ, producer and label boss, Marcel Vogel has curated the Lumberjacks in Hell imprint into a highly respected portal of how the essence of Paradise Garage, Detroit Techno, and Chicago House can be tastefully brought into the contemporary dance music zeitgeist.
When pressed about his sound, the German native and Amsterdam resident plainly states "Soulful, that's all I can say." His productions, constantly showing an affinity for Golden Era Hip Hop, R&B and Disco have attracted a deep bench of artists that includes LIH releases from Traxx, Chicago Service, RAHAAN and Karizma to name a few. BBE Records, a cherished label of many DJs, music lovers and Marcel, reached out to him about putting together a compilation.
So on the heels of Marcel Vogel's "Lumberjacks In Hell" BBE release out next week, featuring unreleased tracks that have never been available on vinyl before, we spoke with the candid and thoughtful artist, starting off with the tale of how the iconic name of his label came about.
Marcel Vogel: I seem to be explaining this a lot recently. It's a series of gigs I did with Mark Seven a decade ago. Three in total. The first one was a birthday that was a bit stiff and the second was a club that was a bit stiff. But the third one on Monday was supposed to make it all worth the effort – at Tag Eins in Freiburg known for their relentless partying students. In the summer you could easily pack 400-500 people into that place at the lake… unfortunately it was January and nobody showed up… just us Lumberjacks, dressed in Lumberjacks shirts, and the bar personnel… That's how I came up with the name and for some reason it stuck with me. So much that I used it for the first release.
You know we have a past in edits. I was inspired by Soundcloud and the feedback I got there for some of the cut and paste things I had on there. And I had the inherent need to bust out one way or another. After a lot of self doubt I just did it. As they say, even the longest journey starts with the first step. I think few people can actually predict the future let alone their own future. I had no idea what I was hoping for. I just knew that I had spent about 15 years practicing and promoting and hustling and I had to do something. I am thankful about the perceived innocence Soundcloud and Social Media still had around that time. Somehow you still had a communal feeling going on. You were just hanging out with your friends on Soundcloud.
As a professional DJ and ambassador of sound can you recount a "weird" gig? Not bad or terrible. Just a head scratcher and what you learned from it.
Marcel Vogel: To say it diplomatically, most gigs are weird and you learn from all of them. Every time you are getting challenged you take something away from it. Broken turntables teach you to either become a technician or switch to USB. Having a bad experience with an unresponsive audience teaches you to choose the parties you play more wisely. All these kind of things. It's a give and take. The party starts waaaaaaay before with you finding music and preparing your selection. What I really have learned is, the more I look forward to a party the more I'll probably be disappointed and vice versa. Expectations can be a bitch, especially when you trust others with creating the vibe for you. On the other hand you can play the most satisfying sets under the strangest circumstances. Sometimes a thunderstorm in the middle of the ocean can help to make people lose themselves. Always be prepared. That's probably the nicest thing about USB and digital nowadays, that you can bring so much different and strange music. It really seems high times for strange left field music literally anywhere we go.
So just to back up, did you actually play during a thunderstorm in the middle of the ocean?
Marcel Vogel: Still probably the most intense DJ moment I've had in 2017. A SUNcéBeat / Lumberjacks in Hell boat party with Antal, Mendel and Rich Medina in the middle of a thunderstorm and the people could either scream and surrender or go inside and sulk! The track is König Saatgut's "The Spirit" that we dropped last month and it's still available on vinyl… until it isn't.
Wow. Mother Nature is the ultimate creator of community, even on the dance floor. Thank you for that visual. I'm curious to know in your opinion why now is a good time for "left-field music"?
Marcel Vogel: I have no idea but it seems the crazier you play the more people go for it. Obviously you have Youtube and Spotify and the internet as a whole. All these crazy reissues and resources so people are waaaaaaaay more educated. Also the digital realm has democratized a lot of things. I always marvel about the amazing level of great music here in Amsterdam. Thanks to Spotify you even hear obscure Afro-Disco in the supermarket, or maybe I am even way too behind and thats not even where it's at anymore.
I get a gazillion emails every week from killer reissues, first releases, cassette-only masters. It's not anymore how to find good stuff, it's how to filter through it and stay current in a way. I suppose I live in a bubble here but it's a pleasant bubble. Very inspiring. I like that stuff just keeps mixing. Whatever you bring to the table, whatever your musical upbringing is, whatever angle you are coming from, it mixes with this Zouk, and drums, and Brazilian music and your Disco roots and then Techno comes into play and Reggae and it just keeps mixing, and out come these trippy combinations of sound. I suppose it's our generation of diggers and the competition and our teachers and the availability of information… it's crazy I guess. But like everything, it goes in circles. We expand our minds and then it goes back to the singularity. It will be interesting to see how all these things filter themselves.
I'm curious about the next hype. The next thing that suddenly becomes hot out of nowhere. People are so eager to find something new and untapped and there are so many different ways to present this and that. All the radio stations like Red Light Radio, NTS , Dublab and Worldwide FM and all these crazy festivals, especially in the Netherlands and the UK offer so many stages. It's way too much. But it's like the quote "too much of a good thing is just wonderful". It's truly wonderful right now. I suppose we grew up with the singularity. It was just Hip Hop, or just House and then it became just Disco… and then Broken Beat and it just exploded and now it's all over the place.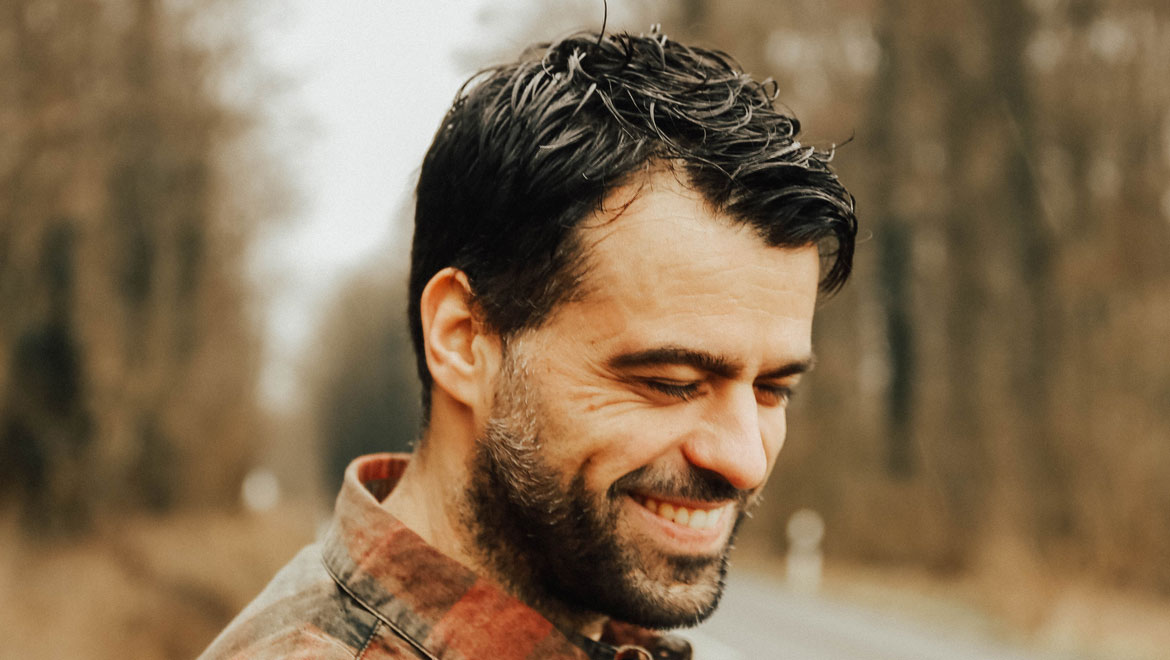 What do you think makes the level of music in Amsterdam, where you currently live, so special?
Marcel Vogel: Maybe because it's a harbour city that always was a melting pot of cultures and influences. In 2012 I made a little documentary as part of a Bachelor program, it's called "Why Amsterdam?". It's difficult to pinpoint in a way, but you see there is Orpheu, Antal, Marko, Olaf and there is so much more in there. The amount of Record Stores here is insane. The amount of really heavy DJs is insane and there is a constant exchange because the city is so small. I suppose in bigger cities scenes just co-exist without ever merging, (if you think of London and New York and Berlin). But in Amsterdam it seems everything is interconnected. You can't really close your eyes and be oblivious to anything. You'll always be aware of it somehow, have it affect you.
This upcoming BBE release, "Marcel Vogel's Lumberjacks in Hell" carries the DNA trait of producers who are still inspired by the magic of records. Besides superior quality, what was the criterion for the tracks you selected for this compilation?
Marcel Vogel: It's easy. When BBE reached out to me, I kinda knew immediately that I would like to do something similar to what I do with the label but on a bigger scope, a bigger stage. So, the compilation features all artists I've either worked with before or was preparing something anyway. Boogie Nite has a track on every single compilation I've done so far which is great. Giovanni Damico had a track on the five year anniversary comp, and we are about to release the third 12″ by him on Lumberjacks. Krewcial has had a previous release on Lumberjacks and we have almost finished another 12″. I have worked with Seven Davis on production before and did a remix for him that came out earlier this year as "LFTOS: The Remixes"
Unfortunately I didn't manage to contribute one of my own tracks as I was busy with other things, but I am extremely busy producing music right now. But yeah, I have some history with all the people on the compilation, and I always try to keep it in the family.
In the liner notes, you state "the narrative is of the past, present, and future of Disco the way I have filtered it through Lumberjacks in Hell". Over the course of the 8 years, what was the track, release or moment where you thought, 'this could really take off beyond just a circle of friends and contemporaries'?
Marcel Vogel: You know, every journey starts with the first step. I pressed 500 copies of LiH001 with my own money and we had a bit of a hit right from the bat. If you look at it, LiH002 (Rayko's "All Around The Watchtower") was a bit of an anthem. LiH003 was already a personal milestone for me to work together with the infamous Traxx. LiH006 was from Rahaan which was another dream come true. You see what I am getting at? Each release pulled the scope a bit more open. Each of them had me very excited for another reason. Just signing certain tracks that I was madly in love with is the most insane feeling anyway.
Obviously Chicago Service marked a very special moment. Philou Louzolo's record was a bit of a surprise hit for me but it got a lot of support from all corners. I suppose it's how they say you are only as good as your latest hit. Luckily I keep getting excited about every next record. It's ridiculous but maybe also the only way this is viable? I am still a one man venture. I am still working hard to keep it together. If I don't keep on my toes all the time there is no Lumberjacks.
But the days of eating Nutella Sandwiches and Canned Ravioli are over?
Marcel Vogel: To that extreme extent yes. I am almost 40 now and have just become a father. But let's not forget this music thing is an addiction like every other addiction too. You will always think this one record will change the path of your whole career and make an entire room fall in love with each other. The hunt never stops. The record store is inspiration and cleansing. A lot of music just starts there and a lot of parties too. As a responsible father, I will focus more on production now and general growth though. Trying to streamline processes across the board. It's amazing that I can live my passion to these extremes. I think I am about to take it to the next level now.
"Lumberjacks In Hell" releases September 28, 2018 on BBE Music
---
Follow:
Marcel Vogel
Lumberjacks in Hell
BBE