MIMS Radio Live Sessions – S02E02
Episode 2 of MIMS Radio presented by Montreal's Phi Centre puts the spotlight on some fantastic Montreal talent.
For this week's in-studio performance we have the lovely Dominique Fils-Aime who has just recently released her latest album "Nameless". We also have an interview with very talented Montreal visual artist and VJ June Barry aka BOYCOTT, as well as some fantastic selections of brand new music from your hosts Lexis and ASMA.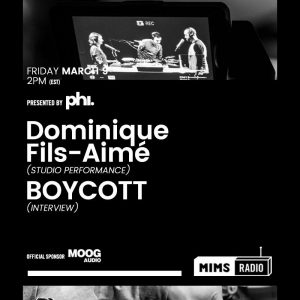 Crucial Material
In Situ: Dominique Fils-Aime
Geek Down with ASMA
Game Changer: BOYCOTT
Version Excursion with Lexis
Outro
Listen to the Full Show
Listen & Subscribe on iTunes
Tracklist
Crucial Material
Kallitechnis – Body & Soul
Nubya Garcia – When We Are (K15 Remix)
Hailu Mergia – Tizita
Bobby Oroza – This Love (Big Crown Records)
Geek Down
Abel Lima E Les Sofas – Corre Riba Corre Baxo
Bitori – Bitori Nha Bibinha (Analog Africa)
Bulimundo – Sema Lopi
Game Changer
Smith & Mighty – The Sea
Dictaphone – Maelbeek
Camille Yarbrough – All Hid
Version Excursion
Ray Bryant – Cubano Chant
Art Blakey – Cubano Chant
Robert Fonseca – Cubano Chant
SHQ – Cubano Chant
Guest Artist Links