MIMS Radio Live Sessions – S02E04
We've got some good stories told on Episode 4 of MIMS Radio presented by Montreal's Phi Centre!
Detroit royalty Waajeed talks about staying successfully uncategorizable in an interview, Walla P brings back some stories and selections from his European tour, and Montreal R&B singer CYBER performs in-studio. Walla P & Lexis are your hosts this week, get into it!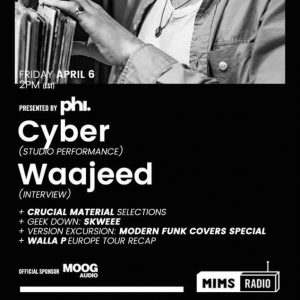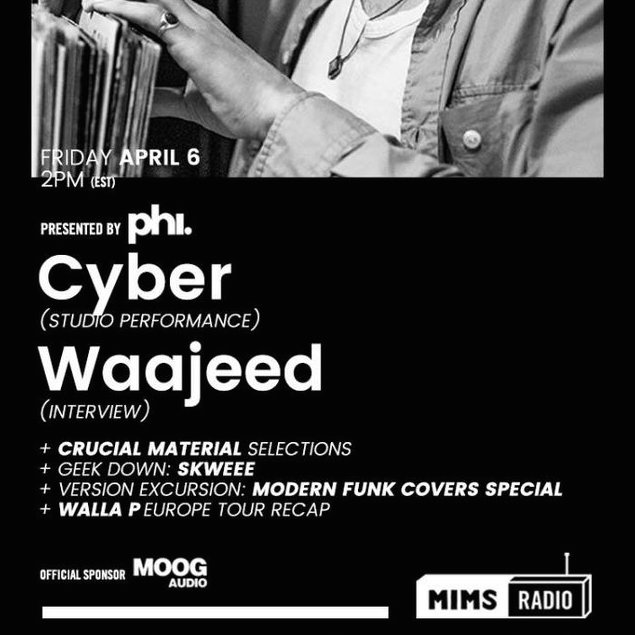 Crucial Material (00:05:05)
Walla P's Europe Tour Recap (00:25:13)
In Situ: CYBER (00:44:29)
Geek Down: Skweee (01:03:02)
Version Excursion with Walla P (01:20:20)
Interview with Waajeed (01:35:19)
Outro
Listen to the Full Show
Listen & Subscribe on iTunes
Tracklist
Crucial Material
Bishop Nehru – Rooftops (prod. MF DOOM)
Potatohead People – Quest For Love
Project Pablo – Napoletana
The Pendletons – Telling Lies (BusCrates Remix)
Phonte – Sweet You
Walla P's Europe Tour Recap
Bobby Demo – Ounce Rap
Airplay – Drive Me Insane
Amoah – Scratch My Back
Side On – Magic
ICE – Reality
Avis – Baby, This Love That I Have
Hiroshi Sato – Evening Shadows
In Situ: CYBER
CYBER – Midnight Problems
CYBER – Where We Belong
CYBER – Dance With You
Geek Down: Skweee
Eero Johannes – We Could Be Skweeeroes
Randy Barracuda – Duck Butter
Coco Bryce – It's A Skweee Thang
Eero Johannes – Leisi Elli
Randy Barracuda – Rick James Is Dead
Version Excursion: Modern Funk Covers
Midnight Express – Danger Zone
Starblazers – Danger Zone
The Jones Girls – Night Over Egypt
Temu – Funk Over Egypt
RAH Band – The Shadow Of Your Love
Mickey De Grand IV – Don't Break The Shadow Of Your Love
Guest Artist Links