The Grooms " Slow Down / I Deserve A Little Bit More" (197?)
In the 1960's, when Atlantic, Stax and Motown were at their peak, a little-known label in Norfolk, Virginia, was also giving young kids with singing talent an opportunity to perform.
Shiptown Records was headed up by Noah H. Biggs, who was nearly as famous around Norfolk for his sharp appearance as he was for his business savvy. He owned many local businesses, including the record store 'Nimrod'. This shop became the epicentre for young people in the area interested in music. In the back of the shop was a small, make-shift recording studio with an in-house band – The Positive Sounds. Over the next decade, this studio would serve as an outlet for Norfolk's rich pool of talent.
Mr Biggs saw the releases on Shiptown as a chance to showcase young, talented artists. As a champion of the Norfolk sound, he wanted to use his connections to secure deals for these newcomers at larger, national record companies. As a result, these demo-style releases can be incredibly hard to track down; with most pressings limited to 200 or less. Shiptown's catalogue is astounding; many tracks have become highly sought-after collector's items – from Barbara Stant to The Positive Sounds.
One of the last releases on Shiptown came in the mid 1970s by an unassuming group called The Grooms. The band's only ever single consisted of two breath-taking slices of soul. The A Side is a phenomenal mid-tempo, funk track with magnificent vocals and a catchy, killer horn arrangement called 'Slow Down'. This track is hard to define, taking inspiration from the full soul spectrum.
On the flip, is a devastating beat-ballad – 'I Deserve A Little Bit More'. This track builds to a spine-tingling crescendo. Raw soul at its best. Wonderfully gritty, tight harmonies melted together with unhinged emotion. A sense of longing is captured as the lead voice cracks towards the end. If this one doesn't move you, check your pulse.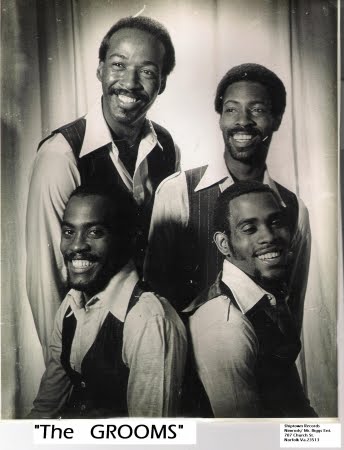 It was 6 months from Miles Away's first-listen to pressing the record. Licensing the single was straight forward, but sadly the master tapes for the original were not available. Due to the rarity of the record, nor was a decent copy for dubbing. This resulted in many late nights spent sending hopeful messages to collector friends and mysterious creatures on Discogs. Eventually, I found someone willing to lend me their copy to be dubbed.
The single still wasn't quite sonically sufficient for Miles Away. Nick Robbins at Sound Mastering, then wonderfully restored the record to it's original beauty. Finishing touches came from Mike Thorne at Rimshot Studios, who added warmth and light. The result is a deep and powerful record that hopefully Mr Biggs himself would approve of. Presented with Miles Away's classic teal green label, the uniting stamp on all of our releases.
Miles Away Records specialises in reissuing records from all over the world on whatever format they deserve.
Buy on Bandcamp