New in our series of Tribute Mixes (previous editions focused on Mood II Swing & Pepe Bradock), this edition focuses on one of the most important figures of the New York sound of 90's House. We at MIMS absolutely love Pal Joey. Always have, always will. So we asked, The RawSoul, one of the MIMS Family members to tackle this tough but wonderful project.
So, feast your ears on 46 tracks by the mighty Joey Lungo aka Pal Joey aka Soho aka Earth People, etc… Also, if you are a Pal Joey you will be happy to hear that the mighty BBE Records have just released an official compilation focused on his work. (Link)
1.Pal Joey Presents Expression "Ancestral Groove"
2.Pal Joey "Drum Major Instinct"
3.Boogie Down Productions "Love's Gonna Get You (Material Love)"
4.Boogie Down Productions "Black Cop"
5.Shabba Ranks & KRS-1 "The Jam"
6.Brothers Of The Mind "Stop Schemin"
7.Pal Joey Presents Expression "Once A Man, Twice A Child"
8.Pal Joey "New York, New York"
9.Pal Joey "Let's Go"
10.Pal Joey "The Flight"
11.Cookie "Choose Me"
12.Eva Nova "Nasty Girl (Let's Get Nasty)"
13.Dana Byrd "Your Luv"
14.No Guilt "Playtime"
15.Blood "Peace In The Nation"
16.Dreamhouse ft Ceasar "Jump & Prance"
17.Houseconductor "Tonight I'm Going To Love You"
18.Deee-Lite "Good Beat"
19.Genius At Work "Love Is The Message"
20.Pal Joey "Runaway"
21.Earth People "Dance"
22.Espresso "Ping Pong"
23.CFM Band "Hold Me Tight"
24.Pal Joey "Freaky"
25.Pal Joey "Chopsticks"
26.Deee-Lite "How Do You Say… Love"
27.Espresso "Let's Get Down"
28.Underground Inc. "Magie Noire"
29.Dreamhouse "I Can Feel It"
30.Earth People "Reach Up To Mars"
31.Pal Joey "Getting Hot"
32.Pal Joey "Rat Race"
33.Pal Joey "What Ya Gonna Do"
34.Beautiful People "I Got The Rhythm"
35.Pal Joey "Battle"
36.Pal Joey "Put All The Others Aside"
37.Pal Joey & Ronald Burrell "Mothers Day"
38.Pal Joey "Spend The Night"
39.Alexis P. Suter "You Don't Know"
40.Wynton Marsalis "Skain's Domain"
41.Soho "Hot Music"
42.Soho "More Hot Music"
43.Sade "Cherish The Day"
44.Brio "Ingratitudes"
45.Roots Foundation "Aye-Le (Rough World)"
46.Pal Joey "Givin It To You"
Download
Also highly recommended. The fabulous BBE Music label has compiled some of Pal Joey's great moments. Buy on sight!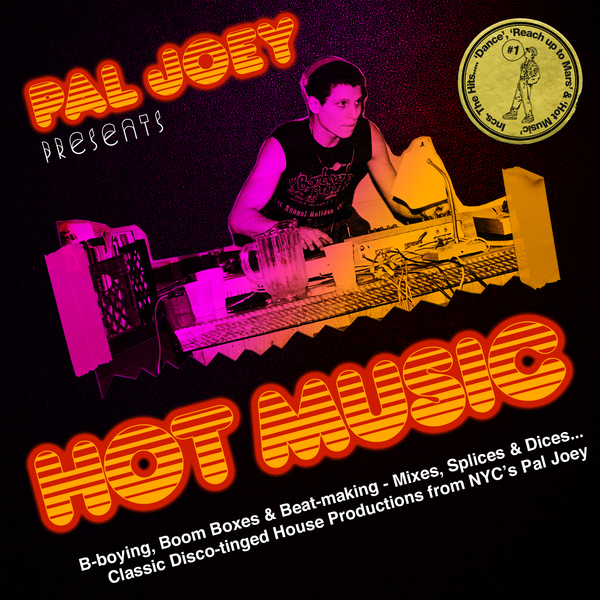 ---
Pal Joey Bio
Pal Joey (aka Joseph Longo) came up in the heady days of New York street culture, amidst B-boying, boom boxes and an unusually entrepreneurial spirit of beat-making. Beginning with crude "pause tapes," he was soon making tracks with drum machines and sampled vocals, all painstakingly assembled with razors and reel-to-reel. Working at Vinylmania, where Larry Levan might be found shopping for records in his pajamas, helped Joey's entrance into the city's nascent house music scene, and he was soon working with everyone from KRS-One to Sade to the Orb, whose "Little Fluffy Clouds" he tweaked for stateside tastes. True to his city's inclusive spirit, Pal Joey consistently blurs the lines between disco, house and hip-hop, dropping scraps of old soul and recent rap alike over his skipping drum patterns and head-nodding keyboard lines. Joey's records (under his principal moniker and also aliases like Earth People and Soho) have appeared on Jive, Epic, Talkin' Loud, Wave and Coco Machete.
He also has run three labels of his own – Loop D'Loop, Cabaret and Footstompin' Records