Hector Juan Pérez Martínez better known as Hector Lavoe aka El Cantante de los Cantantes is a Puerto Rican salsa legend. The iconic figure left Ponce at sixteen to settle in NYC and a year later was recording vocals for Willie Colon (Fania label co-founder). After lending his stupendous voice to a slew of classic albums, he started a solo career that ended tragically after Lavoe was a victim of his inability to cope with newfound fame and a series devastating personal events. He lead a dramatic life and always seemed to be catching up to his own destiny, but when the smoke cleared, his voice, intonation and emotional outpour touched salsa fans all over las americas like no other (he has his own statue in the Callao barrio of Peru).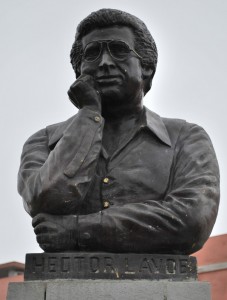 Hector was all about connecting with the listener's soul and wether it was through songs about deception, treason or street life, he performed some of the deepest, most introspective and most raw salsa compositions ever layed on vinyl. Pero, he could also bring the party to the crowd and like a stand-up comedian (his album Comedia has him dressed as Charlie Chaplin on the cover) he would shrug self-deprication off with his affable stage presence and flaco appearance. " [But when the music stops] no one asks how I am doing" is one of many profound questions Lavoe directly asks the audience through his songs. One must really pay attention to the lyrics to really grasp the scope of Lavoe's art and soul.
I could quote the entire El Dia de mi Suerte lyrics, a song that starts with both parents passing, but its really the questionning that is at the heart of this incredible piece of music. " Everyone says, you will see nino, your luck will change, but I am tired of waiting, when is it actually going to happen", its a dark leitmotif that anyone that has survived real traumas can attest to. El Cantate is adressed to the adoring public who stops Hector in the streets and think its all glitz and glamor; they paid their tickets and there is no time for sorrow, they want to forget their own problems, but no one asks if the signer has any issues. Dark metaphors are brought to life by Lavoe's poignant honesty in songs like Bandolera and Periodico de Ayer, but the only time true joy shines through 100% is when he sings about his love for his patria of Puerto Rico, like the rich soils described in Guajira Ven.
For the most part, the songs contained in this mix are stone-cold, etched in marble, bonafide classics that every salsa fan can sing along to. Beautifully recorded with lush arrangements, Lavoe truly benifitted from the innovative and music first approach that was bestowed on Fania's greatest voices. I tried to showcase a variety of styles and eras and included the songs I played over and over while I was discovering the maestro's oeuvre. It's impossible for anyone to not fall in love with Lavoeès music, so share this mix and let a true artist shine as brightly as he deserves.
TRACKLIST
1- Mi Gente
2- Calle Luna Calle Sol
3- El Dia de mi Suerte
4- La Murga
5- Que Bien te Ve
6- Juana Pena
7- Bandolera
8- Aguanile
9- Guajira Ven
10- Todo Tiene su Final
11- La Fama
12- Alejate de mi
13- Periodico de Ayer
14- El Cantante
15- Triste y Vascilla
16- Juanito Alemana
17- No me Den Candela
18- Que Lio